Advertisements
Popular Pages
Pages Updated
Businesses get ready to go smokefree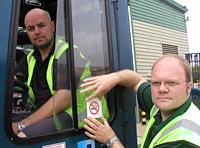 The District Council is praising businesses in West Oxfordshire for their work in preparing for the new smokefree laws that come into force on July 1st.

The Council has been working closely with firms to try to ensure the changes come into place as smoothly as possible and is keen to speak to any businesses that want information and advice.

From July 1st, virtually all indoor workplaces, work vehicles and public places in England will be smokefree. Businesses must display the correct no-smoking signs in a prominent position at all entrances to their premises. Signs must also be displayed in work vehicles. Failure to do so could result in a fine up to £1,000.

Copies of the correct no-smoking signs can be downloaded for free from the Council's website www.westoxon.gov.uk.

Environmental Health Officers have been visiting businesses across the District to give advice about the new signage and what the new legislation requires. They have also been out and about in a 'Health Bus' kitted out with useful information to hand out to businesses, and have written to the District's major employers and larger businesses asking them to get in touch for assistance.

In the final few days before July 1st, the team will be dropping in on businesses to check they have put steps in place to comply with the legislation.

Cllr David Harvey, Cabinet Member for Environment, said: "Our Environmental Health Officers are working hard to communicate with businesses and can give important information about what firms need to do to comply with the legislation. There has been overwhelming support from the majority of businesses they have approached and, as July 1st nears, I would urge any business that has any queries to contact them for help."

The photograph shows Stewart Milne Timber Systems forklift driver Pete Willis finding out how the new legislation will affect work vehicles from Senior Environmental Health Officer Gareth Jones.
Posted : 20/06/2007 17:59:35
Other recent Witney news items posted on the Witney website
More than 10,000 rural homes and businesses in West Oxfordshire now have access to ultrafast full-fibre internet, providing them with some of the fastest broadband speeds in the world. This milesto...
An NHS Covid-19 testing centre is to be built in Witney to improve support for residents. The building will be situated in the Woodford Way car park and is expected to remain for at least three mon...
Residents are being advised to be extra vigilant, particularly over half-term, as cases of coronavirus continue to spread across the county. Evidence shows that, in the past two weeks, the virus ha...
Better, the largest operator of municipal leisure facilities in the UK releases gym usage data since reopening: West Oxfordshire has seen a total of 20537 visits to their local gyms 26-34-year old...