Advertisements
Popular Pages
Pages Updated
Council Tax bills cut for lucky winners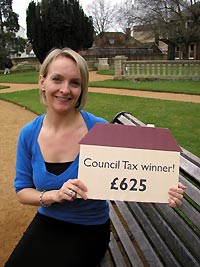 Two lucky winners are getting their Council Tax bills slashed by £625 - equivalent to six months free at Band D - after winning a prize draw run by West Oxfordshire District Council to promote direct debit.

Jane Futcher, from Eynsham, was entered into the draw after signing up to pay her Council Tax monthly by direct debit, and Nora Thomas, from Burford, was among existing direct debit payers invited to take part in the draw.

Both winners were picked at random by Chief Executive, David Neudegg, from more than 5,000 entries.

Ms Futcher said: "I'd been meaning to pay by direct debit for a long time, but hadnít got round to it and so the prize draw prompted me. I thought "I'll never win", but it didn't cost me anything to enter and I was over-the-moon when I heard I'd won."

Mrs Thomas has paid her Council Tax by direct debit ever since the payment method was introduced. She said: "It's straight forward, simple and means no bother. You have to pay it, and direct debit is the least painful way to do it. It was a lovely surprise and a real boost to win this."

Two other people, Graham Lenton from Ducklington, and Alan Lowe from Chipping Norton, were picked as runners-up and won three months' free membership at one of the Council's leisure centres.

The prize draw has led to around 1,000 extra households signing up to pay this way - helping to save the Council about £6,000 extra per year, and keeping Council Tax bills down. Just over 66% of households in West Oxfordshire now pay by Direct Debit.

Leader of the Council, Cllr Barry Norton, thanked HSBC Bank for donating the first prizes and the Council's leisure partner, Wycombe Leisure Ltd, for the second prizes.

He said: "We are extremely pleased and grateful to everyone who took part in the prize draw and particularly to those who took the opportunity to sign up to pay by direct debit.
"Administration costs on this form of payment, compared with other methods, are on average £6 per account, per year, so this will help save money. If everyone in the District started paying this way, £90,000 would be saved in administration costs each year."

Norman Kimber, Area Director of HSBC Oxford, said: "HSBC were delighted to be the main sponsor of the Council's direct debit promotion and help the residents of West Oxfordshire to make life easier for themselves and improve the efficiency of their Council.

"Direct debit is a tried and trusted method of payment backed up by the Direct Debit Guarantee and I encourage more residents to take up this method of payment."

The Council agreed at the start of March to set its annual Council Tax charge at £71.36 at Band D, an increase of £3.36 or 4.9% compared to 2006/7. It means the Council continues to have the second lowest Council Tax charge of all 238 shire District Councils in England.
Posted : 22/03/2007 15:34:25
Other recent Witney news items posted on the Witney website
More than 10,000 rural homes and businesses in West Oxfordshire now have access to ultrafast full-fibre internet, providing them with some of the fastest broadband speeds in the world. This milesto...
An NHS Covid-19 testing centre is to be built in Witney to improve support for residents. The building will be situated in the Woodford Way car park and is expected to remain for at least three mon...
Residents are being advised to be extra vigilant, particularly over half-term, as cases of coronavirus continue to spread across the county. Evidence shows that, in the past two weeks, the virus ha...
Better, the largest operator of municipal leisure facilities in the UK releases gym usage data since reopening: West Oxfordshire has seen a total of 20537 visits to their local gyms 26-34-year old...