Advertisements
Popular Pages
Pages Updated
The West Oxfordshire Community Safety Partnership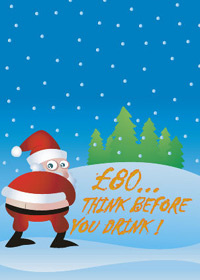 The West Oxfordshire Community Safety Partnership is sending a Christmas card with a difference to offenders who have been arrested or issued with a fixed penalty notice during the past year.

The card will also be sent to persistent and prolific offenders (PPOs) that are at risk of re-offending in the future. Those caught and issued with a penalty for either urinating in public or for disorderly behaviour will receive the reminder that anti-social behaviour won't be tolerated during this year's festive period. The majority of the £80 fixed penalty notices were the result of excess alcohol.

"During 2006, approximately 200 offenders were issued fixed penalties in West Oxfordshire for either urinating in the street or for violent behaviour following excessive drinking," explains PC Simon Towers, Anti-Social Behaviour Manager for the West Oxfordshire Community Safety Partnership. "The Christmas card will be sent to each offender caught during 2006 to act as a reminder and warning for the festive celebrations ahead. Anti-social behaviour is treated extremely seriously by us and won'' be tolerated. We want to make everyone's Christmas in West Oxfordshire a safe one."

The Anti-Social Behaviour Team works with PPOs to ensure their behaviour is dealt with effectively.

Letters are also being sent to those offenders caught with drugs to warn them of the repercussions if they
are caught again. This includes a banning order from all licensed premises in the area and the possibility of receiving an Acceptable Behaviour Contract (ABC). The letters are accompanied by an information leaflet
detailing local drug treatment services.
Posted : 06/12/2006 16:21:17
Other recent Witney news items posted on the Witney website
More than 10,000 rural homes and businesses in West Oxfordshire now have access to ultrafast full-fibre internet, providing them with some of the fastest broadband speeds in the world. This milesto...
An NHS Covid-19 testing centre is to be built in Witney to improve support for residents. The building will be situated in the Woodford Way car park and is expected to remain for at least three mon...
Residents are being advised to be extra vigilant, particularly over half-term, as cases of coronavirus continue to spread across the county. Evidence shows that, in the past two weeks, the virus ha...
Better, the largest operator of municipal leisure facilities in the UK releases gym usage data since reopening: West Oxfordshire has seen a total of 20537 visits to their local gyms 26-34-year old...