Advertisements
Popular Pages
Pages Updated
Anti-Litter Day makes an impact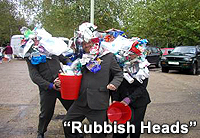 Shoppers and passers-by were intrigued to see piles of rubbish bags and street performers wearing costumes made of litter as the first Anti-Litter Day took place in West Oxfordshire.

The awareness event in Witney town centre on Thursday, October 26, was organised by West Oxfordshire District Council and Witney Town Council as part of a campaign to tackle litter problems.

One of the highlights was street performers, known as the 'Rubbish Heads', putting on comical shows throughout the town centre to get across the anti-litter message.

Volunteers from groups such as the Rotary Club of Witney and University of the Third Age helped with litter collections – and picked up ten sacks full of rubbish from the town centre's streets in only four hours.

Members of the District Council's Environmental Policy Team piled up the sacks under the Clock Tower, at Waitrose, Witney, and were on-hand to speak to members of the public.

Many passers-by gave details about areas in the town where litter is a problem. The Council is now working to target the problem locations. The vast majority of people supported the Campaign and praise was given to the street cleansing team.

Cllr David Harvey, Cabinet Member for Environment, said: "We are absolutely delighted with the way that working together with Witney Town Council has enabled us to raise the profile of this problem. It seems to have had an immediate impact in the centre of Witney and we hope it continues to persuade people to bin their rubbish."

Witney Mayor Chrissie Curry, who is helping to run the Campaign, said: "The day was a great success and it was a good opportunity to speak to people about their concerns over litter. It highlights the fact that there is a problem and it was good to see people getting involved. I would like to thank everyone who has helped.
"We will continue with the campaign so that the message really sinks in that dropping litter is totally unacceptable."
Posted : 27/10/2006 16:25:12
Other recent Witney news items posted on the Witney website
More than 10,000 rural homes and businesses in West Oxfordshire now have access to ultrafast full-fibre internet, providing them with some of the fastest broadband speeds in the world. This milesto...
An NHS Covid-19 testing centre is to be built in Witney to improve support for residents. The building will be situated in the Woodford Way car park and is expected to remain for at least three mon...
Residents are being advised to be extra vigilant, particularly over half-term, as cases of coronavirus continue to spread across the county. Evidence shows that, in the past two weeks, the virus ha...
Better, the largest operator of municipal leisure facilities in the UK releases gym usage data since reopening: West Oxfordshire has seen a total of 20537 visits to their local gyms 26-34-year old...