Advertisements
Popular Pages
Pages Updated
Successful leisure partnership set to continue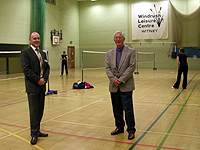 West Oxfordshire District Council is all set to sign a new contract with the non-profit making Trust, Wycombe Leisure Ltd (WLL) to run its leisure facilities for a further ten years.

WLL has been managing the Council's leisure facilities since November 2001. This includes the leisure centres in Carterton, Chipping Norton and Witney, the Woodstock swimming pool and the artificial turf pitches at Witney and Carterton.

As part of the contract tendering procedure, the Council evaluated the success of their partnership with WLL over the last five years. A national benchmarking exercise was undertaken, comparing the Council's leisure centres with other similar centres in the County. The exercise identified the Windrush Leisure Centre as one of the top performing centres in the UK.

Cllr Tony Walker, Cabinet Member for Leisure and Tourism said, "We look forward to continuing a successful partnership with Wycombe Leisure. The new contract offers excellent value for money for the Council and ultimately West Oxfordshire residents. It is also good news for all the staff employed by Wycombe Leisure as it is recognition of the good work they are doing."

Rick Durrant, Managing Director of Wycombe Leisure Ltd said, "We are delighted that this agreement gives us the opportunity to build on this excellent partnership with West Oxfordshire District Council. Opening and developing the services offered at Carterton and Chipping Norton Leisure Centres have been notable successes over the past five years. At a time when sport and physical activity is such a major headline, the new contract concentrates on widening opportunities, access and usage across the District."

As part of the contract both WLL and the District Council have agreed to make further investments in leisure facilities so that there are continual improvements, and to continue to improve the energy efficiency of all the centres.

Under the contract the Council will maintain ownership of its facilities and continue to quality control its services.
Posted : 26/10/2006 12:27:50
Other recent Witney news items posted on the Witney website
More than 10,000 rural homes and businesses in West Oxfordshire now have access to ultrafast full-fibre internet, providing them with some of the fastest broadband speeds in the world. This milesto...
An NHS Covid-19 testing centre is to be built in Witney to improve support for residents. The building will be situated in the Woodford Way car park and is expected to remain for at least three mon...
Residents are being advised to be extra vigilant, particularly over half-term, as cases of coronavirus continue to spread across the county. Evidence shows that, in the past two weeks, the virus ha...
Better, the largest operator of municipal leisure facilities in the UK releases gym usage data since reopening: West Oxfordshire has seen a total of 20537 visits to their local gyms 26-34-year old...