Advertisements
Popular Pages
Pages Updated
Scorching temperatures recorded in Witney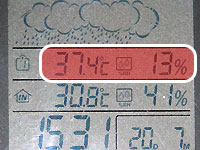 The mercury was rising in the thermometers of Witney today as temperatures went through the roof.

37.4C was recorded in one back garden, with humidity of only 13%.

Funny then that the device pictured above was predicting rain (see photo)!
Posted : 19/07/2006 16:23:30
Other recent Witney news items posted on the Witney website
More than 10,000 rural homes and businesses in West Oxfordshire now have access to ultrafast full-fibre internet, providing them with some of the fastest broadband speeds in the world. This milesto...
An NHS Covid-19 testing centre is to be built in Witney to improve support for residents. The building will be situated in the Woodford Way car park and is expected to remain for at least three mon...
Residents are being advised to be extra vigilant, particularly over half-term, as cases of coronavirus continue to spread across the county. Evidence shows that, in the past two weeks, the virus ha...
Better, the largest operator of municipal leisure facilities in the UK releases gym usage data since reopening: West Oxfordshire has seen a total of 20537 visits to their local gyms 26-34-year old...