Advertisements
Popular Pages
Pages Updated
Applications invited for affordable homes to rent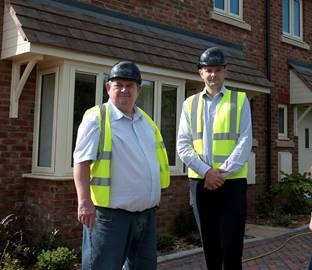 Applications are invited for four newly-built affordable homes that are the first to come forward as the result of a unique partnership between Blenheim Estate Homes and West Oxfordshire District Council.

A further 55 affordable properties are being built as part of the Hanborough Gate development, which is on the western side of Long Hanborough.

The first four properties comprise of two 2-bedroom houses and two 3-bedroom houses and they will be available during October and November.

Rental levels will be priced at 60 per cent of the current market rate and so a two-bedroom house will be £173 pw and a three-bed house will be £214 pw.

Priority will be given to local residents, but all applicants must have been assessed in need of affordable housing and be registered on the Homeseeker Plus website.

Anyone interested in applying for a socially rented home should visit www.homeseekerplus.co.uk or contact West Oxfordshire District Council on 01993 861000.

Cllr Steve Good and Matthew NeilsonCllr Steve Good, Cabinet Member for Housing at West Oxfordshire District Council, said: "By working together, Blenheim is now delivering the first phase of an exciting new model for creating genuinely affordable housing at a cost that more people will be able to afford. This is good news and supports the diversity of housing provision."

Matthew Neilson, Blenheim Estate Homes Head of Property and Development, said: "This initiative forms part of our long term aims to help and support local communities and we are looking to roll these schemes out at all our developments both now and in the future, allowing them to evolve as housing needs change."

Blenheim Estate Homes will retain full ownership on socially rented homes.

Affordable homes at Hanborough Gate, and future Blenheim Estate developments, will be a mix of rented and shared ownership properties.

Blenheim Estate Homes, working in partnership with West Oxfordshire District Council, is intending to offer at least 300 affordable homes on future sites.

Photograph shows Cllr Steve Good (left) and Matthew Neilson at Hanborough Gates.
Posted : 13/09/2018 08:47:58
Other recent Witney news items posted on the Witney website
More than 10,000 rural homes and businesses in West Oxfordshire now have access to ultrafast full-fibre internet, providing them with some of the fastest broadband speeds in the world. This milesto...
An NHS Covid-19 testing centre is to be built in Witney to improve support for residents. The building will be situated in the Woodford Way car park and is expected to remain for at least three mon...
Residents are being advised to be extra vigilant, particularly over half-term, as cases of coronavirus continue to spread across the county. Evidence shows that, in the past two weeks, the virus ha...
Better, the largest operator of municipal leisure facilities in the UK releases gym usage data since reopening: West Oxfordshire has seen a total of 20537 visits to their local gyms 26-34-year old...