Advertisements
Popular Pages
Pages Updated
Ultrafast broadband heading for West Oxfordshire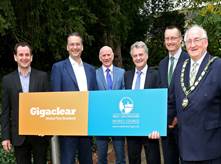 More than 4,600 homes and businesses in West Oxfordshire will be connected to ultrafast full fibre broadband by the end of 2019 thanks to a major new contract worth more than £8m.

The contract will see West Oxfordshire District Council and the Government's broadband agency BDUK invest £3.1m between them with rural broadband specialist Gigaclear adding a further £5m.

The fibre-to-the-premises technology will offer ultrafast broadband to those who have previously struggled to obtain even basic connectivity. It will enable speeds of up to 1,000Mbps (1Gps).

Cllr Colin Dingwall, Cabinet Member for Broadband said: "Ultrafast broadband is essential for individuals and businesses in the area so we're pleased that, through the contract with Gigaclear, we can see this investment through.

"Oxfordshire is known as the UK's leading centre for innovation and we want to make sure we have the infrastructure to support this."

Joe Frost, Business Development Director at Gigaclear, added: "Full fibre is the only future proofed solution to digital connectivity and we firmly believe the industry should prioritise the deployment of fibre broadband to homes and businesses throughout the country.

"Residents and businesses, especially those in rural areas, have been excluded for too long and I'm pleased Gigaclear is able to play a key role in solving this problem for all those living, working and visiting West Oxfordshire."

Matt Hancock, Minister for Digital, said: "I am delighted that our investment will take full fibre broadband to another 4,600 homes and businesses in West Oxfordshire. We are transforming the nation's digital landscape and by 2020 everyone in the UK will have access to a fast, reliable and affordable internet connection."

West Oxfordshire marks Gigaclear's 19th successful tender with BDUK, which has previously seen it deliver broadband networks to tens of thousands of homes and businesses across Berkshire, Devon, Somerset, Gloucestershire, Herefordshire and Northamptonshire.

Residents can find out more about the project and see if they can get ultrafast broadband by visiting www.gigaclear.com/connectingwestoxfordshire.
Posted : 30/10/2017 16:36:39
Other recent Witney news items posted on the Witney website
More than 10,000 rural homes and businesses in West Oxfordshire now have access to ultrafast full-fibre internet, providing them with some of the fastest broadband speeds in the world. This milesto...
An NHS Covid-19 testing centre is to be built in Witney to improve support for residents. The building will be situated in the Woodford Way car park and is expected to remain for at least three mon...
Residents are being advised to be extra vigilant, particularly over half-term, as cases of coronavirus continue to spread across the county. Evidence shows that, in the past two weeks, the virus ha...
Better, the largest operator of municipal leisure facilities in the UK releases gym usage data since reopening: West Oxfordshire has seen a total of 20537 visits to their local gyms 26-34-year old...