Advertisements
Popular Pages
Pages Updated
Chairman's event raises thousands for local charity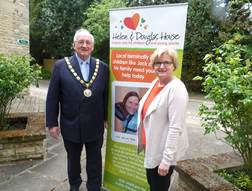 A children's charity has been given a boost of more than £3,000 thanks to a special fundraising event.

Helen and Douglas House in Oxford, which offers respite and end of life care for children, young adults and their families, is the chosen charity of West Oxfordshire District Council chairman Cllr Norman MacRae.

A total of £3,050 was raised at a special Chairman's dinner at the Witney Lakes resort with the cash coming from donations, a raffle and an auction.

Cllr MacRae said: "This is a fantastic charity which is available to every family across the district and beyond and the work staff and volunteers carry out is inspirational. I am delighted to be able to help."

The cash from night will be used to contribute towards the £5.2m a year medical and running costs of Helen and Douglas House which cares for up to 15 patients at any one time.

Community Fundraiser Alison Hooker said: "Almost 90 per cent of our funding comes from donations and this contribution is very much appreciated to provide care for children and young adults.

"We would like to thank Norman and everyone involved."
Posted : 28/04/2017 12:06:41
Other recent Witney news items posted on the Witney website
More than 10,000 rural homes and businesses in West Oxfordshire now have access to ultrafast full-fibre internet, providing them with some of the fastest broadband speeds in the world. This milesto...
An NHS Covid-19 testing centre is to be built in Witney to improve support for residents. The building will be situated in the Woodford Way car park and is expected to remain for at least three mon...
Residents are being advised to be extra vigilant, particularly over half-term, as cases of coronavirus continue to spread across the county. Evidence shows that, in the past two weeks, the virus ha...
Better, the largest operator of municipal leisure facilities in the UK releases gym usage data since reopening: West Oxfordshire has seen a total of 20537 visits to their local gyms 26-34-year old...