Advertisements
Popular Pages
Pages Updated
Dancers in the frame at special exhibition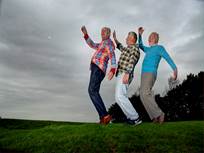 A photographic exhibition celebrating the mature dancer is to go on display in Witney.

Joie de Vivre is a collection of images designed to showcase the beauty and vitality of older dancers with the aim of encouraging others to take part.

The exhibition has been brought to Witney Community Hospital by the Creating With Care programme which is designed to use the creative arts to improve the experience of patients and carers and has been developed by West Oxfordshire District Council.

The photographs have been sourced from Bournemouth-based national dance development organisation Pavilion Dance South West.

Chief Executive Zannah Doan said: "This exhibition demonstrates the beauty and power of the older body. Dancers can be old as well as young. Dance makes a unique contribution to health and wellbeing as it involves music, creativity, exercise, social interaction and touch - all of which contribute to making a person feel healthier or happier. So keep on dancing!"

Creating With Care is part of the council's priority to enable residents, particularly those in vulnerable groups, to gain better access to health and wellbeing services and activities and has been funded from developer contributions.

The two-year programme began in January and is offering workshops in drawing and painting, poetry and storytelling along with dance and movement sessions at patients' bedsides as well as in groups.

Hospital staff also have a chance to dance at lunchtimes once a week while every month a dancer dressed in 1950s-style clothes serves tea and cake in the day room and wards.

Diana Shelton, Shared Head of Leisure and Community Services at West Oxfordshire District Council, said: "These images are not just fantastic photographs but offer inspiration for everyone to enjoy dance. It is an excellent form of exercise for people of all ages."

Joie de Vivre will be displayed in the corridor between the hospital's reception and café from 27 April to 1 June from 10am to 5pm.
Posted : 21/04/2017 18:35:14
Other recent Witney news items posted on the Witney website
More than 10,000 rural homes and businesses in West Oxfordshire now have access to ultrafast full-fibre internet, providing them with some of the fastest broadband speeds in the world. This milesto...
An NHS Covid-19 testing centre is to be built in Witney to improve support for residents. The building will be situated in the Woodford Way car park and is expected to remain for at least three mon...
Residents are being advised to be extra vigilant, particularly over half-term, as cases of coronavirus continue to spread across the county. Evidence shows that, in the past two weeks, the virus ha...
Better, the largest operator of municipal leisure facilities in the UK releases gym usage data since reopening: West Oxfordshire has seen a total of 20537 visits to their local gyms 26-34-year old...