Advertisements
Popular Pages
Pages Updated
Sign up now for garden waste collections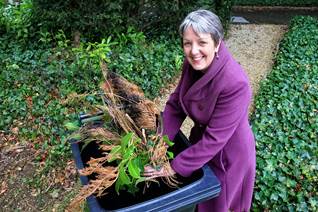 Letters are being sent to householders in West Oxfordshire encouraging them to sign up for a new opt-in garden waste collection service.

The new subscription-only service starts from the beginning of April 2017 and costs £30 per bin a year for fortnightly wheelie-bin collections.

For many years garden waste collections have been free in West Oxfordshire, but due to the loss of external funding, a small charge is now being made.

Many councils are already charging for garden waste collections, as unlike other waste, it is not a statutory service and they are not legally obliged to make collections.

Cllr Carol Reynolds, Cabinet Member for Environment said, "Garden waste collections are popular and householders confirmed in a survey last year that it is a service they greatly value. Without this service, disposing of waste would result in the inconvenience of regular tip visits for many people. We believe that £30 a year represents good value for money and residents can be assured that all their garden waste will continue to be composted and put to good use."

"Householders with smaller gardens may want to share a bin with a neighbour, this is fine, and some are already doing this through the free service. Another alternative way of dealing with garden waste is by home composting; for those interested there are details of discounted composters on the council website - www.westoxon.gov.uk."

From April, garden waste collections will be undertaken by Ubico, the Council's new waste contractor. However, Ubico will not take over all of the Council's other waste collection services until October 2017.

Signing up for garden waste collections is quick and easy, simply make a credit or debit card payment online or over the telephone by visiting www.westoxon.gov.uk/garden or calling 01993 861025.

To guarantee receipt of a new Garden Waste Licence in time for the start of the new service, householders should sign up by and make their payment by no later than Friday 3 March 2017.
Posted : 07/02/2017 10:46:27
Other recent Witney news items posted on the Witney website
More than 10,000 rural homes and businesses in West Oxfordshire now have access to ultrafast full-fibre internet, providing them with some of the fastest broadband speeds in the world. This milesto...
An NHS Covid-19 testing centre is to be built in Witney to improve support for residents. The building will be situated in the Woodford Way car park and is expected to remain for at least three mon...
Residents are being advised to be extra vigilant, particularly over half-term, as cases of coronavirus continue to spread across the county. Evidence shows that, in the past two weeks, the virus ha...
Better, the largest operator of municipal leisure facilities in the UK releases gym usage data since reopening: West Oxfordshire has seen a total of 20537 visits to their local gyms 26-34-year old...