Advertisements
Popular Pages
Pages Updated
The final act of Halloween - recycle your pumpkin!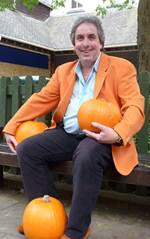 Don't let your Halloween pumpkin go to waste …

That is the message from West Oxfordshire District Council which is keen to see as many pumpkins recycled as possible.

Once Halloween is over, residents can cut them up and place them in their food waste bin to be picked up as part of their usual weekly collection.

Cllr Richard Langridge, Cabinet Member for Environment at West Oxfordshire District Council, said: "Halloween grows more popular every year but one of the scariest parts for us is the thought of all those pumpkins going to waste.

"It's dead easy to pop it into the food waste bin. Who knows, it may even be used as fertiliser to bring another pumpkin to life next year!"

Last year, with the help of residents, the District Council collected almost 3,500 tonnes of food waste in West Oxfordshire which was taken to the processing plant near Cassington to be recycled into electricity and fertiliser.

Cllr Langridge added: "It's not just your pumpkins that can be recycled either, any other food leftovers, cooked or raw, can go in your food waste bin."

For more information about waste and recycling in West Oxfordshire, or to order a free food waste bin and kitchen caddy, see www.westoxon.gov.uk/bins or call 01993 861000.
Posted : 21/10/2016 11:49:47
Other recent Witney news items posted on the Witney website
More than 10,000 rural homes and businesses in West Oxfordshire now have access to ultrafast full-fibre internet, providing them with some of the fastest broadband speeds in the world. This milesto...
An NHS Covid-19 testing centre is to be built in Witney to improve support for residents. The building will be situated in the Woodford Way car park and is expected to remain for at least three mon...
Residents are being advised to be extra vigilant, particularly over half-term, as cases of coronavirus continue to spread across the county. Evidence shows that, in the past two weeks, the virus ha...
Better, the largest operator of municipal leisure facilities in the UK releases gym usage data since reopening: West Oxfordshire has seen a total of 20537 visits to their local gyms 26-34-year old...