Advertisements
Popular Pages
Pages Updated
Residents given opportunity to recycle even more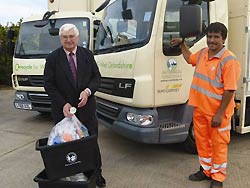 West Oxfordshire District Council is giving residents the chance to recycle even more plastics from the end of September.

Householders are already able to recycle a range of plastics, including bottles and containers, as part of their weekly black box household recycling collections.

From September 26, they can also put out the following 'fly-away' plastics:

- carrier bags
- polythene
- small clear food packaging – film and shrink wrap
- cling film
- bubblewrap
- compost bags

All that residents need to do is put their 'fly-away' plastics into a secured plastic bag (carrier bag or similar) inside their black recycling box.

Separating these materials from other plastics and items will prevent them from being able to blow around on bin day and help speed up collection times, as well as making it easier for the items to be sorted for reprocessing.

Cllr David Harvey, Cabinet Member for Environment at the District Council, said: "It's almost a year since we launched the new waste and recycling service to give people more opportunities to recycle and residents have done a fantastic job in helping us to almost double recycling rates, up to 66, and sending less waste to landfill.

"We are committed to continue making improvements and creating more opportunities for local people to recycle, so we are extremely pleased that we will soon be able to accept even more plastics. We will be among only a few councils in the country to be collecting and recycling 'fly-away' plastics and we hope residents will take advantage of this service, and help us to recycle even more."

As well as 'fly-aways', residents can continue to recycle other types of plastics including bottles, tubs, pots and food trays. These can be left loose in their black recycling boxes ideally placed in the same box as tin cans.

A wide range of other items can also be recycled as part of weekly black box collections, including paper and cardboard, tins and cans, newspapers and magazines, glass, textiles and shoes. A full list of items that can and cannot be recycled is available at www.westoxon.gov.uk/recyclingA-Z.

The collection of 'fly-aways' is being run initially for a 3 month period. After this period the scheme will be evaluated and if it has proved successful will be continued on a permanent basis.

Residents using communal bins will be informed separately about how they can recycle fly-away plastics.

Craig Cutajar, Contract Manager for the Council's waste and recycling contractor May Gurney, said: "We're really pleased to be offering this. We really want to encourage residents to recycle their 'fly-away' plastics. To do so it's really important that these plastics are contained in a bag so that they do not get mixed in with your bottles, tubs and pots as they are sent separately for recycling."

Last month, three new vehicles joined West Oxfordshire's fleet of recycling trucks. The trucks, funded by May Gurney, were introduced as recycling rates continued to increase month-on-month.

For further information about waste and recycling, visit www.westoxon.gov.uk/waste or call 01993 861025.
Posted : 19/09/2011 17:29:20
Other recent Witney news items
Private landlords in West Oxfordshire are being invited to have their say as part of a new forum being set up by the District Council. The aim of the event is for the council to provide support an...[more]
West Oxfordshire District Council is encouraging residents to recycle their real Christmas trees. Householders already signed up for garden waste collections can simply put them out on their next...[more]
With the Christmas party season in full swing, residents are being warned to stay safe and check their taxi is safe and legal. Customers are being urged to look out for the Council's licence plate...[more]
To view the full Witney Blog, click here