Advertisements
Popular Pages
Pages Updated
Witney Student's Winning Design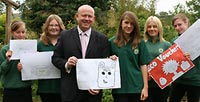 Laura Cooper, a Year Seven student at Witney's Wood Green School, has had a prize-winning assembly.

Laura was presented with an environment-friendly MP4 music player by Oxfordshire County Council's Cabinet Member for Growth & Infrastructure, Cllr Ian Hudspeth.

The prize is part of the "Bags of Life in Witney" campaign to reduce the number of plastic shopping bags handed out in the town's shops. The campaign is funded by Oxfordshire Waste Partnership and led by the Oxfordshire Town Chambers Network (OTCN at www.otcn.co.uk). It will be launched in September and run through until the end of January 2010. Town centre businesses and local schools will work together on the voucher-based campaign which will encourage shoppers to take their own bags when they come to Witney to shop. A group of students at Wood Green were asked to come up with a design for the voucher, with the MP4 player, which works on solar power as well as batteries, as the prize. Students at The Henry Box School have created a poster for the campaign.

Cllr Hudspeth says: "I am delighted to present this eco-friendly MP4 player for designing the voucher. I would encourage all pupils to put pressure on their parents to re-use bags so that their school can win the money being made available through this campaign for an environmental project."

Project co-ordinator for OTCN, Alison Nicholson, says: "Involving students at our two secondary schools has been brilliant for the campaign. We've had some great designs in and the judges had a tough job picking the one that will appear on the voucher that we'll use in participating shops."

When the campaign launches in the autumn, a shopper who is offered a plastic bag when they buy something in a participating Witney town centre store, but says 'no thanks' – because they have their own bag for life or re-use an old plastic bag - will be given a voucher. These vouchers can then be given to one of the town's schools who will collect as many as they can, and there'll be prizes for schools that collect the most.

It's thought that plastic bags can take anything from 100 to 1,000 years to biodegrade. People accumulate several plastic bags on each shopping trip - an incredible waste of precious resources including oil, compared with re-using an old bag or taking a 'bag for life'.

OTCN is a communications network bringing together 24 local chambers and other business groups in the county with 1600 member businesses between them.
Posted : 17/07/2009 10:45:52
Other recent Witney news items
Private landlords in West Oxfordshire are being invited to have their say as part of a new forum being set up by the District Council. The aim of the event is for the council to provide support an...[more]
West Oxfordshire District Council is encouraging residents to recycle their real Christmas trees. Householders already signed up for garden waste collections can simply put them out on their next...[more]
With the Christmas party season in full swing, residents are being warned to stay safe and check their taxi is safe and legal. Customers are being urged to look out for the Council's licence plate...[more]
To view the full Witney Blog, click here