Advertisements
Popular Pages
Pages Updated
Axe hanging over Cogges Manor Farm Museum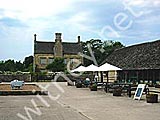 The axe is hanging above the Cogges Manor Farm Museum in Witney again.

Cogges Manor Farm Museum is the third biggest tourist attraction in West Oxfordshire behind the Cotswold Wildlife Park and Blenheim Palace.

The Witney and West Oxfordshire Gazette reports that West Oxfordshire District Council withdrew its annual funding contribution in April 2005 saying that the resource should be funded by the county council as the museum benefits the whole region, not just Witney.

This year the shortfall was offset by a one-off district council payment and an additional contribution raised in 1997 for the Manor House restoration. But Oxfordshire County Council will have to fund the subsidy itself from April 2006.

Various options have been outlined in a report on the future of the site including a £200,000 contribution from the county council, reduced opening from 6 days a week to 5 days, an opening season to the public of only six weeks in the summer or permanent closure of the farm.
Posted : 30/11/2005 17:40:21
Other recent Witney news items
Residents are being reminded to check what they are placing in their recycling bins as contamination is increasing. The Council has noticed an increasing number of items such as nappies, food and p...[more]
Plans to modify Witney town centre following the reopening of non-essential shops are set to be put in place by the end of the week. The scheme, which involves the imposition of a 20mph speed limit...[more]
The Dix Pit household waste recycling centre at Stanton Harcourt will reopen on Monday 18 May but residents are being urged to hold their visit unless it is absolutely essential. Long tailbacks are...[more]
To view the full Witney Blog, click here