Advertisements
Popular Pages
Pages Updated
Cardboard recycling helps Witney Market go greener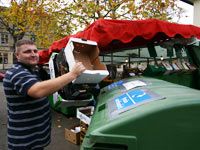 In another move to minimise the amount of waste going to landfill, West Oxfordshire District Council (WODC) has just extended its commercial waste recycling service to Witney Market, helping traders there go greener.

Every week cardboard waste mainly in the shape of empty fruit and vegetable cartons is being packed into large bins for collection by the Council's waste contractor, Veolia Environmental Services, who then send it on to be recycled.

Currently the cardboard refuse collected from the market each Thursday fills as many as seven 1,100 litre bins.

This adds more than 500 kilograms of waste cardboard a week to the total recycled since the commercial collection service started in West Oxfordshire in June.

One market trader who is pleased to participate in the new scheme is Darren Smith of Smith's Fruits who says:- "Separating out the cardboard from the rest of the waste is a good idea as everyone needs to do a little bit to help protect the environment and this is our bit."

"Apart from Witney Market, we also trade at Thame and Aylesbury but to my knowledge West Oxfordshire is the only council in our area to offer a recycling service."

"With nearly 80 businesses and now the market using our cardboard recycling scheme The District Council has managed to cut the amount of waste going to landfill by more than 35 tonnes in just over four and a half months," says Cllr. David Harvey, Cabinet Member for the Environment.

"Providing bins to collect cardboard at Witney Market not only helps keep the town centre tidier but might also be a first step on the way to introducing cardboard recycling at markets throughout the District and on every market day in due course."

The commercial collection service for glass and cardboard was launched on a one year trial basis as the result of a survey of West Oxfordshire businesses. This showed that 93 per cent preferred for their waste to be recycled rather than end up in landfill. In addition to the cardboard, the service has already collected 50 tonnes of glass for recycling.
Posted : 01/11/2007 17:56:53
Other recent Witney news items posted on the Witney website
More than 10,000 rural homes and businesses in West Oxfordshire now have access to ultrafast full-fibre internet, providing them with some of the fastest broadband speeds in the world. This milesto...
An NHS Covid-19 testing centre is to be built in Witney to improve support for residents. The building will be situated in the Woodford Way car park and is expected to remain for at least three mon...
Residents are being advised to be extra vigilant, particularly over half-term, as cases of coronavirus continue to spread across the county. Evidence shows that, in the past two weeks, the virus ha...
Better, the largest operator of municipal leisure facilities in the UK releases gym usage data since reopening: West Oxfordshire has seen a total of 20537 visits to their local gyms 26-34-year old...