Advertisements
Popular Pages
Pages Updated
Tonnes of litter cleared from West Oxon roadsides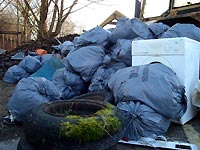 More than 12.5 tonnes of litter has been handpicked from verges and roadsides across West Oxfordshire in only 26 days as part of a litter blitz by the District Council.

The litter - enough to more than fill a large refuse collection vehicle - was picked up by six workers from West Oxfordshire District Council who trawled 98 miles of roadsides on foot. In total, 12,620 tonnes were picked up - equivalent to almost half a tonne every day.

In addition to the litter, more than 20 shredded lorry tyres and old bicycle wheels were cleared away. The workers even came across two washing machines, a refrigerator and dumped car parts – including doors, seats and glass.

The clear-up was carried out in preparation for the Council to start grass cutting. As well as helping to improve the environment, the blitz has also cut the risk of large items getting caught up in and damaging grass cutting equipment.

Cllr David Harvey, Cabinet Member for the Environment, said: "This has been an extremely worthwhile exercise and it just goes to show how much of a problem litter can cause. It is beyond belief that people think they can just dump items such as washing machines and refrigerators - which can pollute the environment - at our roadsides. This is totally unacceptable and I would like to remind people that fly-tippers face prosecution.
"I hope that people will be surprised by the amount of litter that was collected and do their bit to help raise awareness and urge others not to do it."

Roads targeted during the campaign included:
A40 East and Westbound
A415 Ducklington to Newbridge
Sections of the A361
B4449
Sections of the B4437
Sections of the B4022
A4095 Witney to Woodstock
B4047 Witney to Asthall roundabout
A44 to A436
A4260 border to Hopcroft Holt
A424 Burford to county border
B4030 Enstone to the Bartons

The team also responded to feedback from residents who contacted the Council to report litter problems in their areas.

Anyone who spots a problem can fill out online Litter Problem or Fly-tipping forms via the Council's website - log onto http://www.westoxon.gov.uk/environment/Streetcleansing.cfm. Alternatively, call the Council's Street Scene team on 01993 861020.

Posted : 22/03/2007 15:44:06
Other recent Witney news items posted on the Witney website
More than 10,000 rural homes and businesses in West Oxfordshire now have access to ultrafast full-fibre internet, providing them with some of the fastest broadband speeds in the world. This milesto...
An NHS Covid-19 testing centre is to be built in Witney to improve support for residents. The building will be situated in the Woodford Way car park and is expected to remain for at least three mon...
Residents are being advised to be extra vigilant, particularly over half-term, as cases of coronavirus continue to spread across the county. Evidence shows that, in the past two weeks, the virus ha...
Better, the largest operator of municipal leisure facilities in the UK releases gym usage data since reopening: West Oxfordshire has seen a total of 20537 visits to their local gyms 26-34-year old...