Advertisements
Popular Pages
Pages Updated
Oxfordshire Mind Week Roadshow 2012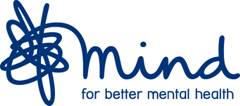 21 – 27 May 2012 will be Oxfordshire Mind Week, and we'll be taking the Mind Roadshow on a tour of the county, including Witney on Monday 21 May, to promote our new campaign: Five Ways to Wellbeing.

May is the start of the great British summer fête season. Oxfordshire Mind will be bringing our very own summer street party, with a very important message, to Marriotts Walk in Witney.

1 in 4 of us will experience a mental health problem at some point in our lives, and Mind Week is all about encouraging everyone to take simple steps to look after our mental wellbeing. We all know to eat our 5 a day and get 7 – 8 hours sleep a night in order to stay physically well, and we can adopt similar, common-sense lifestyle choices to keep our minds healthy too. In fact, by adopting these actions, we can expect to increase our life expectancy by up to 7.5 years.

The Five Ways to Wellbeing are:

1. connect...
With people around you. With friends, family, colleagues and neighbours. Strengthening these connections will support and enrich you every day.

2. be active...
Find an activity you enjoy. Go for a walk. Garden. Dance. Just step outside. Exercising at a level that suits you will make you feel good.

3. take notice...
Be curious. Savour the moment, whether you are walking to work, eating lunch or talking to friends. Reflecting on your experiences will help you appreciate what matters to you.

4. keep learning...
Try something new. Rediscover an old interest. Set a new challenge you will enjoy achieving such as signing up for a course, fixing a bike or cooking your favourite food.

5. give...
Do something nice for a friend or stranger. Thank someone. Smile. Volunteer your time. Seeing yourself linked to the wider community can be incredibly rewarding.

We will be chatting to the people of Witney about simple things they can do to incorporate all five 'ways' (and lots of people will already have some of them covered!) in to their every day lives. Come and join us at the tea table and contribute ideas on the 'Wellbeing Bunting' whilst watching some demonstrations of the Five Ways to Wellbeing brought to life with Nordic Walking and football demos from the Oxford United FC coaches (11.30am – 1.30pm)

Join us on the day to find out more!
Posted : 11/05/2012 10:39:40
Other recent Witney news items
Private landlords in West Oxfordshire are being invited to have their say as part of a new forum being set up by the District Council. The aim of the event is for the council to provide support an...[more]
West Oxfordshire District Council is encouraging residents to recycle their real Christmas trees. Householders already signed up for garden waste collections can simply put them out on their next...[more]
With the Christmas party season in full swing, residents are being warned to stay safe and check their taxi is safe and legal. Customers are being urged to look out for the Council's licence plate...[more]
To view the full Witney Blog, click here