Advertisements
Popular Pages
Pages Updated
Witney Lettings Agents
The Witney Lettings Agents section of the Witney website is where you can find information on lettings agents in the Witney area.
If you are looking for a house to rent in Witney, or you are a landlord looking for a Witney property lettings agent, you will find details of local lettings agencies on this page.
An entry on this Witney Property Rental page (see below) costs from £95 + VAT per annum, that's about 26p + VAT per day!
Or you can choose a sponsored listing (see right) for just £145 + VAT per annum.
If you are a private individual with with a house or flat to let, or you are looking for a place to rent in Witney, our new houses and flats to rent in Witney page might be of use to you.
OXlets.com
OXlets.com - Lettings & Property Management for Oxfordshire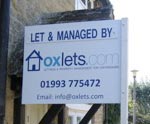 We are a family run, internet based residential lettings & property management company offering a personal service to Witney, surrounding villages and West Oxfordshire.
As we are internet based, we do not have the overheads of our high street competitors and are thus able to offer fees that are, on average, 40% lower. We offer tenant find, let only (with optional rent collection) and full management services along with tailored solutions. Created in early 2009, we are keen to assist new and established landlords and help them reduce their costs. Get more of your rent in your pocket with OXlets.com
For more information, visit the
OXlets.com
website
Springfield
Established in 1989, Springfield Property Rentals is West Oxfordshire's leading letting agents. We are specialists in lettings and management and do not sell houses. We deliver a thoroughly professional service, resulting in us having an excellent reputation with both landlords and tenants alike.

Telephone : 01993 775320
Andrews
The Andrews website says "Our service to landlords is flexible, responsive and we get great results. We usually rent out a property within 3 weeks - sometimes sooner - and although tenants change over time, its comforting to know that every year many of our tenants extend their agreements meaning we can help you keep good tenants for longer and avoid the hassle of finding news ones. Rent can be paid directly into your bank account and a sliding fee structure means that the longer you stay with us, the less we charge."
The Witney branch of Andrews can be found on Corn Street.

Telephone : 01993 864564