Witney United Football Club - The 'Blanketmen'

Witney United FC (WUFC) was formed in the Palace Club on the evening of 14th June 2001 by a group of former Witney Town supporters who, following the demise of the club, were intent on bring senior football back to the town via the creation of a Community Club that would provide football, eventually, for all ages/sexes.
The group formed a management committee – lead by Chairman Philip Webb – and registered Witney United FC with the Oxfordshire Football Association.
For almost a year they had little else other than the name! There was no ground, team or manager. That year was all about raising funds and the profile of the club.
The club also set itself a challenging business plan that targeted a return to Southern League football within 5 seasons.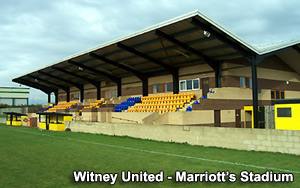 Finally after much hard work it all came together. In 2002 WUFC gained a lease on Witney Town's Marriott's Stadium and was accepted into Division One (West) of the Hellenic League.
In it's first year the Club struggled to attract local players and finally finished 15th in the Division and also fielded an U17s team that went on to become our U18s.

The second season saw the club move forward finally finishing the season in 4th place and gaining a surprise, last minute, offer of promotion to the Premier Division.
The challenge of promotion was compounded by the fact that the Club would start it's third ever season with it's third ever manager!
But under the management team of Alan Clark, Steve Paish and Spencer Keyes the team proved it could hold it's own – finally finishing a creditable 11th out of 22.
In October 2005 Alan Clark resigned as 1st Team Manager and Spencer Keyes was asked to step up from Assistant Manager to replace him. Spencer's first management move was to recruit Pete Lamont as his No2. The team finally finished in 6th place.
As a Club we now have 2 Senior Sides and U18s and U15s sides and are now attempting to become an FA 'Charter' Club.