The Areas of Witney

As a guide to Witney, we are often asked questions like "Where are the best areas of Witney to live", "Are there any areas of Witney that I should avoid?", "I have two young children, which area of Witney is the most family friendly".


Witney can be roughly broken up into the areas below, but some major roads don't particularly "belong" to a named residential area. For example Corn Street and Queen Emmas Dyke are near to the town centre but not really known by a collective term. If you would like to suggest a new area for inclusion, please email us.


Madley Park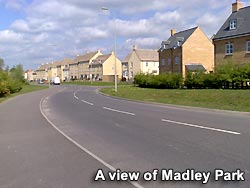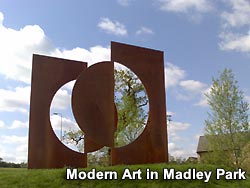 A residents view
To be honest, when we started looking for a house last year in Witney, I hadn't even considered Madley Park.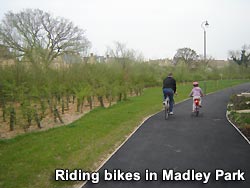 My intial outside impression was that it was a compressed, cookie cutter kind of living. However, after a few viewings in the other areas of Witney, we decided to take a closer look at some of the newer developments in the area.

We eventually found a house in Madley Park that ticked most of our required boxes and we felt like we got more for our money here. Our house is a bright, semi-detached one with a garage, good parking, large master bedroom with ensuite, and a decent sized garden.

We also love how quiet and clean the whole place is. The walk to Witney centre is about 30 minutes and there is a convenient Co-op onsite for top-up shops, lots of green spaces for the kids to play sport, a lovely primary school, a great community infrastructure and upcoming plans for a community centre.

Witney is a great place to live and so is Madley Park!
Burwell
Burwell is made up of Burwell Drive running through the area, with roads intersecting such as Colwell Drive, Mountfield Road and Abbey Road. Burwell Meadow, although adjoining Burwell Drive, could be thought of as an area in it's own right due to the different layout and type of housing.

There is an area containing a Post Office, Newsagent, mini-supermarket, and a couple of fast food outlets. There is plenty of parking space in front of the shops.
Cogges
The Cogges guide is coming soon. Cogges is to the South East of Witney and has a small area centre with a Vets, and shops.
Deer Park
Deer Park is a development to the West side of Witney, bordered by Burford Road to the North, Curbridge Road to the South and Smiths Estate to the East.

Deer Park is made up of two "crescents" (Raleigh Crescent and Valance Crescent) leading to a number of roads. Edington Road links the two crescents.
A Local's View
Deer Park (so called because it is on the site of an ancient Deer Park & hunting ground) is a development to the West side of Witney.

The land was given over to several developers in the late 1980's, chief among them Bovis & McLean, and a sizable estate grew up between 1988 & 1992. Deer Park Road was constructed as a link between the Curbridge Road and the Burford Road.

The "lower end" of the estate - the estate is built on a rising ridge of land hence lower and upper, it has nothing to do with the quality of either end of the estate - is that nearest the Curbridge Road and was the part developed first and therefore has the older houses.

The "upper end" of the estate is nearer the Burford Road and is slightly newer as it was constructed in the early 1990's. This end also houses the small local Tesco's, a Doctors Surgery, a day nursery, a Chinese Take-away, a chemist and West Witney Primary School, which has a reasonable reputation in the area (or so I am told).

A good many of the residents on the estate are not local people in as much as they were not born in the area and there is a very pleasing mix of accents from local Oxfordshire through Welsh, Brummie, London, Yorkshire and even Geordie.

There is also a good age mix on the estate ranging from young couples, young families, middle aged couples with older children and retired couples and no one age group seems to be over represented. It is also fair to say that many people on the estate have been there for a good length of time. I have lived in my house for 12 years and only one of my near neighbours has moved in that time.

The whole estate contains a mix of housing from single bedroomed Coach Houses to detached 4 bedroom houses. Most houses have garages or car-ports but on street parking still occurs sometimes making the small side roads a little cluttered. It is well landscaped and looked after by the local council and there are several small greens and two large greens (both close to the school and amenities). One even has a small playground for children.

As is required by law there is also an element of social housing on the estate.

As befits houses that are now moving towards 20 years old many have been revamped internally and now have new bathrooms & kitchens , double glazing, conservatories and, in some cases, landscaped gardens and hot-tubs. It is rumoured that one house has even had a covered swimming pool constructed, although whether this is true or not is open to debate.

The houses tend to be rather expensive (about £200k upwards) and it seems to be an estate that Estate Agents regularly target new buyers to the area toward.

The estate has no pub and the nearest - depending on whether you live on the lower or upper end is either the Lord Kitchener (lower end) or the Windrush (upper end).

The whole estate receives ADSL coverage from various providers and some of the residents work from home so the estate is not deserted during the day. Mobile coverage from O2 & Vodafone is good. Orange & T-Mobile coverage is less good. (Note from Admin: The T-Mobile reception I receive when visiting Deer Park is very good, so perhaps the strength of signal is patchy?)

Overall the estate is generally quiet and although some youths gather outside the local Tesco's they are generally kept an eye on by police patrols and no serious trouble has ever occurred.

(Kindly sent in by Eloman)
Oxford Hill
The Oxford Hill/Newland Mill guide is coming soon. This area can be found to the Eastern side of Witney.
Puck Lane / Gloucester Place / Gloucester Mews
A Local's View
Just off Mill street is a small single lane called Puck lane - mostly old properties with cotswold stone construction & high cotswold walls which turns a very sharp corner into Gloucester place - on the left cape terrace on the right some lge semi's all well kept, the high street is at the bottom of Gloucester place with gloucester mew's parrallel Gloucester mew's - old peoples development approx 10 years old all amenities close by in the high street but can't think of children's play area - there may be one proposed in the marriots development which is close by, the only fault with this area is parking - there is hardly any spaces in Gloucester place and it will get much worse with the marriots development house prices £250,000 to £350,000 this is a very nice area to live - very quiet for the center of town sometimes called the witney village area
Thorney Leys
Essentially a large housing estate off Thorney Leys Road, Thorney Leys lies adjacent to Burwell and there are various pathways that link the two areas.

As well as the housing, there are three takeaways (one of which is also a sit-in restaurant - unlicensed I believe, so you have to take your own alcohol).

Opposite these three takeaways is Burwell Hall, a building that is used as a community hall, Polling Station, playgroup, venue for discos/parties etc. I believe it has a capacity of about 100 and is air-conditioned. It is also used by sports teams using the Burwell Recreation Ground nearby.
Smith's Estate
The Smith's guide is coming soon.
West End and Hailey Road
A Local's View
West End has a variety of terraced housing from the 1700's and earlier and flats but with very limited parking. Several little known houses are hidden behind the main West End. There are three pubs, Starting with the Court Inn on the Corner to the Elm Tree followed by The House of Windsor all of which attract a very different clientele. The House of Windsor offering the most pub games plus live music. There is also a breakers yard, a range of small offices, a small industrial estate, a chip shop and a Post Office (the only one this side of the bridge).

The Bottom of Hailey Road (at the roundabout) known locally as Cannon Pool suffers the most with flooding, however there is a lovely cycle/foot path across the river to Mill Street here which is very well used. There is the popular and long established Broadhill Pre School and Witney Community Primary School next door at the other end end with a Spar Shop & BP Garage opposite. Further down we have the Londis shop which has a surprisingly good range of stuff for curries. Next there is the Robin Hood pub which has darts and dominoes teams plus Aunt Sally in the summer also good for big screen sports events and music at the weekends. There is a Chippy, a Bookmakers, a Hairdressers and a Launderette. There are large greens suitable for ball games on Eastfield Road and Taphouse Avenue plus a much improved play park on Quarry Road. All in all the people are generally friendly and neighbourly.

(Kindly sent in by Angua)
Woodgreen
The Woodgreen area is the area around Woodgreen Hill, Woodstock Road etc.
A Local's View
Woodstock Road hasnice big houses and gardens. Woodgreen is similar but there is a good pub the Three Pigeons with John and Joy your hosts, it runs teams for Darts and Crib in the winter and Darts, Aunt Sally and Dominoes in the summer, they also do frequent charity quiz nights and very handy for the Woodgreen play area. You will also find the Main WODC Council offices at Woodgreen and Elmfield nearby.

(Kindly sent in by Angua)