Advertisements
Popular Pages
Pages Updated
Olympic hopeful encourages youngsters to apply for funding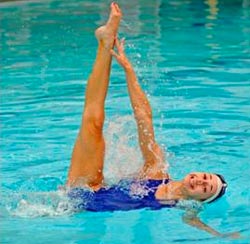 Budding young athletes in West Oxfordshire are being urged to apply for funding that helped an Eynsham teenager potentially become one of the youngest competitors at next year's Olympics.

Hannah Green, aged 16, was awarded an overall grant of £1,200 towards her training costs as a synchronised swimmer last year. The former Bartholomew School pupil is currently the number one ranked junior in the UK and has been selected for the Great Britain Team from which swimmers for the Olympics will be selected.

Hannah said: "The funding was a huge benefit to me as it eased the pressure of financing my training from my parents and meant that I could focus on my goal of competing at an international level and hopefully at next year's Olympics. I would encourage any young athlete in West Oxfordshire to apply for the grant as for many it is very difficult to get funding at the moment."

The West Oxfordshire Sports Awards are run in partnership with GLL Sports Foundation and offer grants of up to £1,250 to support young sportspeople who are currently competing at county level and above. The new partnership replaces the existing Sports Achievement and Higher Achievement Awards scheme.

With the Olympics set to take centre stage in 2012, the next generation of athletes are being encouraged to capitalise on the support for young sporting talent in the district.

Cllr Richard Langridge, Cabinet Member for Local Economy and Communities said: "We are committed to encouraging and supporting young sportspeople in West Oxfordshire. Through these awards we aim to help them reach the next level in their chosen field and go on to compete at a national and international level.

"The Council believes it is important to recognise the District's talented individuals and is proud to support them in achieving their goals."

The grants are available to athletes aged 12 or over who live within the West Oxfordshire district area and applications open from December 20 until February 20 next year. Applicants will be notified in April 2012 on the outcome of their applications.

The grants can be used towards costs of training, travel, accommodation, coaching or to offset equipment, coaching and competition fees.

As part of the new scheme, everyone awarded a grant will also gain free access to the council's leisure facilities (operated by GLL Nexus Community).

To apply visit www.westoxon.gov.uk/sportsawards, or call: 01993 861557.
Posted : 20/12/2011 17:24:14
Other recent Witney news items
Private landlords in West Oxfordshire are being invited to have their say as part of a new forum being set up by the District Council. The aim of the event is for the council to provide support an...[more]
West Oxfordshire District Council is encouraging residents to recycle their real Christmas trees. Householders already signed up for garden waste collections can simply put them out on their next...[more]
With the Christmas party season in full swing, residents are being warned to stay safe and check their taxi is safe and legal. Customers are being urged to look out for the Council's licence plate...[more]
To view the full Witney Blog, click here