Advertisements
Popular Pages
Pages Updated
Two Local Charities Receive Awards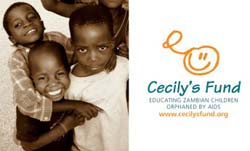 Two Oxfordshire charities, Selvakids and Cecily's Fund (right), were given prestigious national awards on June 30th by the Institute of Chartered Accountants for England and Wales (ICAEW).

Helen Ashdown, co-founder of Selvakids – a charity that helps schools in the Amazon region of Ecuador to obtain basic educational materials - won the Everybody Counts Young Member Award, and Cecily's Fund, which enables Zambian orphans to go to school, was, for the third consecutive year, winner of an Online Financial Reporting and Accounts Award.

The Everybody Counts award celebrates the exceptional contribution of chartered accountants who volunteer for charities and community projects across the UK. Michael Cooper, President of ICAEW's Thames Valley Society of Chartered Accountants (TVSCA), said: "These awards are not just about celebrating success, they are about providing inspiration. Each of the winners has inspired other people by example, showing how dedication and focus can make a difference to peoples' lives."

Helen Ashdown (pictured above left) said: "The award means a great deal to me as not only does it recognise the time and effort I've invested in setting up SelvaKids, it also provides our charity with a much needed donation of £2,000 which will help us to set up two new community banks and progress with a number of other projects that we are developing"

Presenting the Online Financial Reporting and Accounts Award to Cecily's Fund, judges described the Annual Report on their website as "By far the best in the field". The judges said that bigger charities could learn from smaller ones like Cecily's Fund about interactivity and making the most of the web.

Cecily's Fund Communications Officer, Sabita Banerji (pictured above right, with Cecily's Fund Accountant Anne Palmer and ICAEW's Graham Ward), said: "We are thrilled to have won this award for the third year running, especially as this time we were competing in a higher income category with larger and better resourced charities. Cecily's Fund is strongly committed to transparency and good governance, so we are really pleased that such a prestigious body has once again recognised our efforts to keep our supporters clearly informed of how their money is spent."

Presenting the Charities Online Financial Reporting and Accounts Awards (COFRA), Graham Ward CBE Chairman of the Judges, said: "In an uncertain economic time when many charities are being squeezed, and a time of growing public accountability, these awards are more important than ever… The Annual Reports are there to encapsulate not just that the charity is being run well but that it has a clear vision and mission."

Cecily's Fund is the chosen charity of TVSCA and will be supported further by the donations of attendees at the TVSCA Annual Dinner and Prize Giving on 23 September at Wolfson College, Oxford.
Posted : 19/07/2011 13:35:45
Other recent Witney news items
Private landlords in West Oxfordshire are being invited to have their say as part of a new forum being set up by the District Council. The aim of the event is for the council to provide support an...[more]
West Oxfordshire District Council is encouraging residents to recycle their real Christmas trees. Householders already signed up for garden waste collections can simply put them out on their next...[more]
With the Christmas party season in full swing, residents are being warned to stay safe and check their taxi is safe and legal. Customers are being urged to look out for the Council's licence plate...[more]
To view the full Witney Blog, click here