Advertisements
Popular Pages
Pages Updated
Green game idea scoops award for Witney school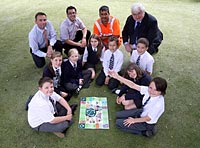 A board game about recycling and reducing waste designed by pupils at a Witney primary school could soon be on sale after winning a countywide competition.

The Batt School students beat off competition from five other primary schools to win Oxfordshire Education Business Partnership's Primary Enterprise Challenge.

Schools were required to work with local businesses or organisations in the 'Clean and Green' challenge to come up with original, innovative board games that promote an eco-friendly message.

The Batt School team's idea for a game named 'Recycle Me' was put into reality with help from West Oxfordshire District Council, which provides waste and recycling services, and its waste contractor May Gurney.

May Gurney funded a prototype of the board game for the pupils to take to the competition and is now discussing with the school the possibility of helping with costs of manufacturing the board game for sale.

Cllr David Harvey, Cabinet Member for Environment at West Oxfordshire District Council, said:
"The pupils were aware that we had launched a new waste service late last year to give residents more opportunities to recycle and had incorporated elements of the new service, such as food waste recycling and what items can and cannot be recycled, into their game as well as facts about recycling that they researched.

"We were very impressed with their ideas and level of understanding and were only too happy to help them develop their idea and design. It is a great achievement for them to have won the Enterprise award and, hopefully, we might see their game on sale soon."

The pupils won the challenge after presenting their idea to a panel of judges of Science, Oxfordshire County and InterContinental Hotels group last month (June).

Craig Cutajar, Contract Manager for May Gurney in West Oxfordshire, said: "We are always keen to work with the local community and we were really pleased to hear about the school's work on a project about recycling. We were bowled over by the children's ideas and have been supporting them ever since. The game has received such good feedback that we are exploring the possibility of helping with its production for sale on a small scale, and will be promoting it to colleagues in the waste and recycling industry as we think it is very innovative."

Batt School teacher Mark Peacey, who entered the school's team of Year 6 pupils into the Challenge, said: "The children have really enjoyed this project, it has given them the opportunity to meet members of the local business community and given them a taste of the challenges they might one day face in the world of commerce. We are all very grateful to West Oxfordshire District Council and May Gurney for all their support."

The Primary Enterprise Challenge was launched in October 2010 and was funded by the Department for Education with the aim of giving pupils a taste of the world of business, project management research, design and marketing.

The other competing primary schools were Dr Radcliffe's in Steeple Aston, St Christopher's in Oxford, Church Cowley in Oxford and St Peter's in Oxford.
Posted : 15/07/2011 10:33:53
Other recent Witney news items
Private landlords in West Oxfordshire are being invited to have their say as part of a new forum being set up by the District Council. The aim of the event is for the council to provide support an...[more]
West Oxfordshire District Council is encouraging residents to recycle their real Christmas trees. Householders already signed up for garden waste collections can simply put them out on their next...[more]
With the Christmas party season in full swing, residents are being warned to stay safe and check their taxi is safe and legal. Customers are being urged to look out for the Council's licence plate...[more]
To view the full Witney Blog, click here