Advertisements
Popular Pages
Pages Updated
Flood protection for Witney homes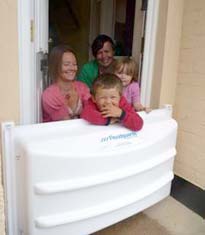 Flood guards have been given to residents in Eastfield Road, Witney, as part of on-going flood prevention work in West Oxfordshire.

Ten households which are among homes most at risk from flooding in Eastfield Road have received flood guards to fit at their doorways and entrances. In the event of flooding risk, the guards can be fitted simply onto frames that have been installed at entrances to the properties.

The flood guards have been funded by a Government flood protection grant, secured by West Oxfordshire District Council.

Work has cost £57,000 and follows other flood prevention measures put in place to protect Eastfield Road as part of a joint project between the District Council, Oxfordshire County Council, the Environment Agency and Cottsway Housing.

Eastfield Road has previously suffered flooding and is deemed to be an 'at high risk' area. It was one of several areas in West Oxfordshire severely affected during the July 2007 floods.

Cllr David Harvey, West Oxfordshire District Council's Cabinet Member for Environment, said: "Like all of our residents who have experienced flooding, those in Eastfield Road have been through some really tough times in recent years and we hope that this work will help to provide protection, and some peace of mind, for those whose homes are most at risk.

"Our Council has taken the problem of flooding extremely seriously and work has been on-going since the terrible floods of 2007 to secure and carry out as much flood protection work as possible in the affected areas across the district."

Emma Willis, who lives in one of the properties in Eastfield Road where flood guards have been fitted (pictured below), said: "The house flooded in 2007, but luckily I wasn't living here at the time. I've got four children and it is really worrying – every time it rains for a long time I start to panic. The flood guards have given us some reassurance and a bit more peace of mind. I hope we won't have to use them, but if it does look like it's going to flood they seem sturdy and look like they'll keep the water out."

Next month, work will start on fitting flood guards at 20 homes in Bampton. The work will cost £114,000 and is also funded by a Government flood protection grant secured by the District Council.

The Council has also gained a further £57,000 of grant funding from the Environment Agency towards flood guards for 10 properties in Asthall and is liaising with the parish council and local residents about this scheme. Work will be carried out by March 2011.
Posted : 03/08/2010 10:35:15
Other recent Witney news items
Private landlords in West Oxfordshire are being invited to have their say as part of a new forum being set up by the District Council. The aim of the event is for the council to provide support an...[more]
West Oxfordshire District Council is encouraging residents to recycle their real Christmas trees. Householders already signed up for garden waste collections can simply put them out on their next...[more]
With the Christmas party season in full swing, residents are being warned to stay safe and check their taxi is safe and legal. Customers are being urged to look out for the Council's licence plate...[more]
To view the full Witney Blog, click here