Advertisements
Popular Pages
Pages Updated
Witney Manís Big Royal Moment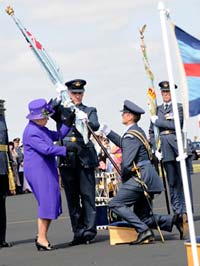 A Witney man has enjoyed the rare honour of marching in front of the Queen at an historic military event. Flight Lieutenant Peter Dorward, 52, a reservist flight commander in the Royal Auxiliary Air Force (RAuxAF), enjoyed his big moment on Sunday as part of a 110-strong parade at RAF Marham, Norfolk, as the Queen presented new Colours to the RAFís main reservist force.

The Queen was also presenting inaugural squadron standards to 2620 (County of Norfolk) and 2623 (East Anglian) Squadrons of the Royal Auxiliary Air Force Regiment. Colours and standards Ė embroidered silk flags representing the Sovereignís authority and the countryís pride in its Armed Forces Ė are presented once every 25 years, making last weekendís ceremony a very rare occasion indeed.

In his busy civilian life Peter is a Witney Town Council Councillor as well as running his own driving school business. A full time RAF man from 1975 to 1993, Peter started his military career afresh in 2000 with 4624 Squadron, a unit of air logistics specialists based at RAF Brize Norton, Oxfordshire. He said 4624 Squadron had not taken part in similar ceremonial duties for 20 years.

ďItís a great honour for me,Ē he said, ďand I tell my team how rare and important an event it is in our squadronís life.Ē

Peterís links with the RAuxAF keep growing. He and his wife Mary Frances have three grown up children, the middle one, Jennifer, is a qualified nurse and is also a part-time reservist, currently serving with the Royal Auxiliary Air Force in Kandahar, Afghanistan.

Peter was educated at Burford Grammar School.
Posted : 21/07/2010 16:15:55
Other recent Witney news items
Private landlords in West Oxfordshire are being invited to have their say as part of a new forum being set up by the District Council. The aim of the event is for the council to provide support an...[more]
West Oxfordshire District Council is encouraging residents to recycle their real Christmas trees. Householders already signed up for garden waste collections can simply put them out on their next...[more]
With the Christmas party season in full swing, residents are being warned to stay safe and check their taxi is safe and legal. Customers are being urged to look out for the Council's licence plate...[more]
To view the full Witney Blog, click here