Advertisements
Popular Pages
Pages Updated
Witney Campaign Bags Housing Association Support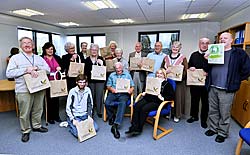 A campaign to reduce the number of plastic bags handed out to shoppers in Witney has had a big boost.

Local housing association Cottsway Housing has had 100 jute 'bags for life' specially produced to help its tenants play a part in the scheme (see picture attached).

Alison Nicholson project co-ordinator for the OTCN-led 'Bags of Life in Witney' campaign, says: "It's great that Cottsway Housing have been such positive supporters of the scheme and come up with an imaginative way to encourage their tenants to play a part. The campaign is going really well and the schools taking part are starting to see bundles of vouchers coming in. This initiative by Cottsway can only help continue the momentum."

"We are pleased to support the 'Bags of Life in Witney' campaign by offering free jute bags to our tenants", said Cottsway's chief executive, David Waters. "The take-up so far has been very good, meaning that we are helping save valuable resources. The bags are available from our Witney office to all Cottsway tenants while supplies last. We are keen to play an active role in helping the community reduce its carbon footprint."

Thanks to the 'Bags of Life in Witney' campaign any shopper offered a plastic bag when they buy something in a participating town centre store, who says 'no thanks' – because they have their own bag for life or re-use an old plastic bag - will be given a voucher. The vouchers can then be given to a participating school in the town or neighbouring villages, and there'll be prizes for schools that collect the most.

More than 90 Witney town centre shops and traders have signed up to be part of the scheme which was launched by Cllr Ian Hudspeth, Oxfordshire County Council Cabinet Member for Growth & Infrastructure. It runs until the end of January 2010 and is funded by Oxfordshire Waste Partnership and led by the Oxfordshire Town Chambers Network (OTCN). A list of the shops and schools currently taking part is available on the Network's website at www.otcn.co.uk.

Cottsway Housing is the largest local Registered Social Landlord (RSL) operating within the West Oxfordshire District. It owns and manages more than 3,700 homes and provides services to 135 leaseholders and 40 part-owners in its shared ownership schemes.

OTCN is a communications network bringing together 24 local chambers and other business groups in the county with 1600 member businesses between them.
Posted : 02/12/2009 13:54:58
Other recent Witney news items
Private landlords in West Oxfordshire are being invited to have their say as part of a new forum being set up by the District Council. The aim of the event is for the council to provide support an...[more]
West Oxfordshire District Council is encouraging residents to recycle their real Christmas trees. Householders already signed up for garden waste collections can simply put them out on their next...[more]
With the Christmas party season in full swing, residents are being warned to stay safe and check their taxi is safe and legal. Customers are being urged to look out for the Council's licence plate...[more]
To view the full Witney Blog, click here