Advertisements
Popular Pages
Pages Updated
Public art for new Witney development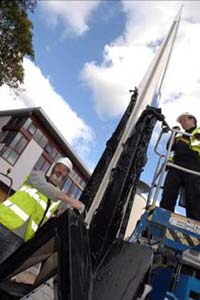 A public art centrepiece for Witney's new leisure and retail development was installed on Monday 12th October.

Designed and created by sculptor and public artist Michael Fairfax, the 'Buttercross Needle', is the second of two pieces of public art for Marriotts Walk. It has been commissioned by West Oxfordshire District Council and funded from the developers, the Simons Group.

Michael Fairfax's contemporary 'Buttercross Needle' design was chosen as it reflects the internal architecture of the development and materials of the leisure square. Using modern materials of predominantly stainless steel and glass, the interior houses fibre optic lights, which will illuminate at night through slender strips of glass.

A floor mosaic was also commissioned as public art and this is at the Welch Way entrance to Marriotts Walk. Created by specialist mosaic artist, Rob Turner, the mosaic represents a more traditional style. Made up of 32 sections it captures key points in West Oxfordshire's commercial history.

Cllr Warwick Robinson, Cabinet Member said, "Both pieces complement the development and the town as a whole. The mosaic reflects the traditional style of the Welch Way elevation of Marriotts Walk in traditional materials of natural stone, brick and render, as well as depicting the district's heritage. Although the 'Buttercross Needle' is very modern, its design references well-known local landmarks such as the spire of St Mary's Church in Church Green and the roof of the Buttercross."

Mosaic artist Rob Turner and sculptor, Michael Fairfax are well-known public artists and their work can be seen all over the UK.

Representatives from Witney Town Council and West Oxfordshire District Council have worked together with the developers to ensure that these works really reflect the local area and complement the development.
Posted : 14/10/2009 12:15:09
Other recent Witney news items
Private landlords in West Oxfordshire are being invited to have their say as part of a new forum being set up by the District Council. The aim of the event is for the council to provide support an...[more]
West Oxfordshire District Council is encouraging residents to recycle their real Christmas trees. Householders already signed up for garden waste collections can simply put them out on their next...[more]
With the Christmas party season in full swing, residents are being warned to stay safe and check their taxi is safe and legal. Customers are being urged to look out for the Council's licence plate...[more]
To view the full Witney Blog, click here