Advertisements
Popular Pages
Pages Updated
School Plays Big Part In Plastic Bags Campaign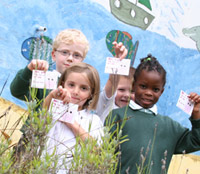 One of Witney's smallest schools has signed up to play a big part in the campaign to reduce the number of plastic bags used in the town's shops.

St Mary's Infant School is one of the first schools in the town to agree to collect the vouchers that will signal the efforts being made by shoppers to 'say no' to plastic bags.

When the "Bags of Life in Witney" campaign launches in October, a shopper who is offered a plastic bag when they buy something in a participating town centre store, but says 'no thanks' – because they have their own bag for life or re-use an old plastic bag - will be given a voucher. These vouchers can then be given to one of the town's schools who will collect as many as they can, and there'll be prizes for schools that collect the most.

The campaign is funded by Oxfordshire Waste Partnership and led by the Oxfordshire Town Chambers Network (OTCN at www.otcn.co.uk). It will be launched in October and run through until the end of January 2010.

Amanda Bennett, a foundation stage teacher at St Mary's, says: "Being based in the heart of Witney we are very happy to support this project. If we won this competition we would put the funds towards improving our garden area. We would like to build raised beds so we can grow our own produce. St Mary's is very proactive in enlisting the support of both children and parents and I'm sure we'll have bags of fun in supporting the 'Bags of Life' campaign!"

It's thought that plastic bags can take anything from 100 to 1,000 years to biodegrade. People accumulate several plastic bags on each shopping trip - an incredible waste of precious resources including oil, compared with re-using an old bag or taking a 'bag for life'.

OTCN is a communications network bringing together 24 local chambers and other business groups in the county with 1600 member businesses between them.
Posted : 27/09/2009 23:58:40
Other recent Witney news items
Private landlords in West Oxfordshire are being invited to have their say as part of a new forum being set up by the District Council. The aim of the event is for the council to provide support an...[more]
West Oxfordshire District Council is encouraging residents to recycle their real Christmas trees. Householders already signed up for garden waste collections can simply put them out on their next...[more]
With the Christmas party season in full swing, residents are being warned to stay safe and check their taxi is safe and legal. Customers are being urged to look out for the Council's licence plate...[more]
To view the full Witney Blog, click here