Advertisements
Popular Pages
Pages Updated
African Adventure Receives Boost from Witney firm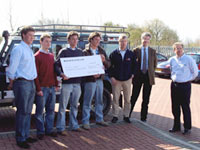 African Adventure Receives Boost from Witney-based Meech International

A generous financial donation from Witney-based manufacturing firm Meech International has kickstarted the fund-raising campaign for a group of intrepid adventurers looking to undertake a three-month expedition through Africa, including a world-record attempt to run across the Kalahari Desert.

The four university students are undertaking "The African Descent and Trans-Kalahari Expedition' throughout June to September and will be driving their specially modified Land Rover Defender the length of Africa, from Alexandria to Cape Town. Once in the Kalahari, they will then run 645 km across the desert, as a relay. Each team member will run the equivalent of a half marathon every day for eight days. A feat never been attempted before.

The aim of the expedition is to raise money for two worthwhile charities: Help for Heroes, an organization formed to help those who have been wounded in Britain's current conflicts and the Tusk Trust a dynamic UK based African Wildlife Trust, with over 17 years experience of conserving wildlife, promoting education and supporting community development programmes across Africa.

At the handover of the sponsorship money at Meech's headquarters in Witney, Oxfordshire, Chris Francis, Managing Director commented, "We are pleased and proud to sponsor such a worthwhile cause. It is an exciting and brave adventure these boys are undertaking."

Tim Jackson, a director of the Tusk Trust and Andrew Dent from Help for Heroes were also present to wish the boys well. "Help for Heroes and The Tusk Trust have every admiration for the four boys and are delighted they have chosen our charities as beneficiaries. We wish them a safe and successful journey."

The team comprises twins Harry and Toby Mossop, Robert Hemms and Alexander Budge. Donations can be made at http://www.justgiving.com/africandescent

Photo from right to left: Chris Francis, Managing Director of Meech; Andrew Dent, Oxfordshire Representative for Help for Heroes; Tim Jackson, Director of Tusk Trust, Harry Mossop, Toby Mossop, Robert Hemms and Alexander Budge.
Posted : 09/04/2008 14:32:48
Other recent Witney news items
Residents are being reminded to check what they are placing in their recycling bins as contamination is increasing. The Council has noticed an increasing number of items such as nappies, food and p...[more]
Plans to modify Witney town centre following the reopening of non-essential shops are set to be put in place by the end of the week. The scheme, which involves the imposition of a 20mph speed limit...[more]
The Dix Pit household waste recycling centre at Stanton Harcourt will reopen on Monday 18 May but residents are being urged to hold their visit unless it is absolutely essential. Long tailbacks are...[more]
To view the full Witney Blog, click here