Advertisements
Popular Pages
Pages Updated
One of the best councils to work forů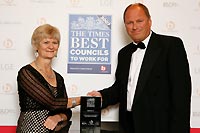 A national award has identified West Oxfordshire District Council as an outstanding place to work for, being one of the top ten best councils in the UK.

The awards are a culmination of a rigorous survey provided in confidence by District Council employees directly to Best Companies Ltd, and the completion of a factual questionnaire by the Council.

Jeremy Vine, from the Times newspaper said, "We congratulate the heads of the councils that allowed their employees to take part in this survey. It takes courage to open up an organisation to external scrutiny. Being one of the top councils sets you apart from other councils."

Chief Executive David Neudegg said, "I am extremely honoured and proud to be West Oxfordshire District Council's Chief Executive and that we have been rated so highly by our own staff. To be in the top 10 councils in the country is testament to the dedication and commitment of both staff and councillors to serving the people and places in West Oxfordshire. We have a good human resources structure in place which we will continue to develop as I believe that having people who are highly motivated is at the heart of providing excellent services."

The Awards scheme is sponsored by the government's Improvement and Development Agency (I&DEA) and the Local Government Employers association. Both agencies believe that councils should set the benchmark for excellent work practices.

Lucy de Groot, Executive Director of IDeA said: "With over 2 million people working for local councils across the UK, it is great to note that the successful award winners are decided by asking the people who matter - those who work there. A positive workforce serves the community well. It identifies best practice to ensure good services. The right people with the right talent will serve people and their places better."

Today, 26th September, a special awards supplement has been published by The Times newspaper.

Best Companies Ltd is the company behind the awards. They are also behind the Sunday Times 100 Best Companies to Work For lists. Their mission is: "helping to make the world a better workplace".

Earlier this year the Audit Commission's official figures revealed that West Oxfordshire District Council has the second-best performance record for staff sickness days out of all the district councils in England.
Posted : 26/09/2007 17:11:46
Other recent Witney news items
Residents are being reminded to check what they are placing in their recycling bins as contamination is increasing. The Council has noticed an increasing number of items such as nappies, food and p...[more]
Plans to modify Witney town centre following the reopening of non-essential shops are set to be put in place by the end of the week. The scheme, which involves the imposition of a 20mph speed limit...[more]
The Dix Pit household waste recycling centre at Stanton Harcourt will reopen on Monday 18 May but residents are being urged to hold their visit unless it is absolutely essential. Long tailbacks are...[more]
To view the full Witney Blog, click here