Advertisements
Popular Pages
Pages Updated
WODC starts big clear up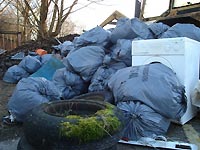 West Oxfordshire District Council has launched a month-long litter blitz to clear up rubbish from verges and roadsides across the District.

Six workers from West Oxfordshire District Council's Street Scene team are trawling roadsides on the District's main arterial routes to clear away rubbish and debris that has accumulated over the winter months.

The team have already picked up at least three tonnes of litter in only nine days and some larger items left at roadsides by fly-tippers - including old tyres and wheels, and even a washing machine. (See photo)

Collected items are being put into grey sacks with W.O.D.C written on them and stacked neatly into piles at locations along the roadsides ready to be picked up by the Council's street cleansing truck.

The blitz started on January 23 and is taking place over 26 days. Workers are targeting 156km of roadsides and verges. As the team are on foot, drivers are being urged to keep an eye open for them and take extra care when passing or overtaking.

The clear up is being carried out in preparation for the Council to start grass cutting in the spring. At this time of year, grass verges tend to die back, leaving litter exposed and creating an unsightly view. As well as helping to improve the environment, the blitz also cuts the risk of large items getting caught up in and damaging grass cutting equipment.

Cllr David Harvey, Cabinet Member for Environment, said: "The amount of rubbish and debris already collected by the team is staggering and once again illustrates the problem of litter and fly-tipping in our communities, which is simply unacceptable.
"The team are doing a great job at clearing up this mess for the benefit of us all and, in particular the environment. I really hope this makes people think twice before they drop rubbish - and to report anyone they see fly-tipping."

Roads that will be targeted as part of the clear up include:
A40 East and Westbound
A415 Ducklington to Newbridge
Sections of the A361 Swerford to Lechlade
Whole of the B4449
Sections of the B4437
Sections of the B4022
A4095 Witney to Woodstock
B4047 Witney to Asthall roundabout
A44 to A436
A4260 Border to Hopcroft Holt
A424 Burford to the county border
B4030 Enstone to the Bartons

Over the last two years the Council has, on average, picked up 1,350 tonnes of litter per year from the streets and roadsides of West Oxfordshire.

Any residents who spot a problem in their area can fill out an online Litter Problem form via the Council's website, www.westoxon.gov.uk. Fly-tipping can also be reported online at the same address. Alternatively, call the Council's Street Scene team on 01993 861020.
Posted : 05/02/2007 21:46:55
Other recent Witney news items
Residents are being reminded to check what they are placing in their recycling bins as contamination is increasing. The Council has noticed an increasing number of items such as nappies, food and p...[more]
Plans to modify Witney town centre following the reopening of non-essential shops are set to be put in place by the end of the week. The scheme, which involves the imposition of a 20mph speed limit...[more]
The Dix Pit household waste recycling centre at Stanton Harcourt will reopen on Monday 18 May but residents are being urged to hold their visit unless it is absolutely essential. Long tailbacks are...[more]
To view the full Witney Blog, click here