Advertisements
Popular Pages
Pages Updated
Witney Lions Club Santa float dates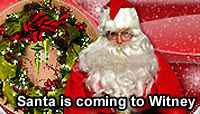 THE annual Witney Lions Club's Father Christmas will be touring Witney and villages before Christmas again this year.

The stop off dates are planned as follows:

December 4th, from 6pm - Smiths Estate, Burford Road, Cornfield Close and Elm Close.
December 5th, from 6pm - Deer Park estate
December 6 from 6pm - Burwell Meadow and Burwell Drive.
December 7 from 6pm - It will go from Burwell Drive to Ducklington Lane.
December 8th, from 6pm - Tower Hill, Davenport Road, Springfield Oval and Beech Road.
December 9 from 5pm - Thorney Leys.
December 11, from 6pm - Freeland.
December 12, from 6pm - Kingsfield Close, Oxlease, Church Lane, Eton Close and Blakes Avenue.
December 13, from 6pm - Newland Mill, Pens Close and Compton Way.
December 14, from 6pm - Vanner Road, New Yatt Road and Chestnut Close.
December 15, from 6pm - The Crescent, Early Road, Woodlands Road, and Woodstock Road.
December 18, from 6pm - Cogges estate.
December 19th, from 6pm - Ducklington.
December 20, from 6pm - Long Hanborough, at 6pm.

In addition to the dates above, there will be a static float at Sainsbury's in Witney on December 16th (Saturday), and on Thursday, December 21st, from 8am to 4pm.

The float will also be at Waitrose on Friday, December 22nd, from 8am to 4pm.
Posted : 27/11/2006 23:56:22
Other recent Witney news items
Residents are being reminded to check what they are placing in their recycling bins as contamination is increasing. The Council has noticed an increasing number of items such as nappies, food and p...[more]
Plans to modify Witney town centre following the reopening of non-essential shops are set to be put in place by the end of the week. The scheme, which involves the imposition of a 20mph speed limit...[more]
The Dix Pit household waste recycling centre at Stanton Harcourt will reopen on Monday 18 May but residents are being urged to hold their visit unless it is absolutely essential. Long tailbacks are...[more]
To view the full Witney Blog, click here