Advertisements
Popular Pages
Pages Updated
Assault in Witney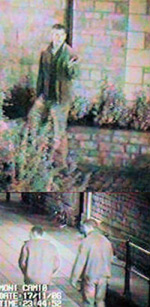 Police are appealing for information following an assault on a 25-year-old man in Witney on Friday night (17/11) and have released CCTV stills of two men they would like to speak to in connection with the incident.

The assault took place at Langdale Gate at 11.45pm. The victim was with his friend and they were approached by two men who attacked them. While his friend ran off to find help, the two men assaulted the 25-year-old man, leaving him with facial and head injuries.

He was treated by ambulance staff at the scene.

The main attacker is white, around 25-years-old, stocky build, around 6ft 2ins tall with short dark hair. He was wearing light jeans, dark shirt, denim jacket and brown shoes.

The second man is white, also around 25-years-old, medium build, about 5ft ins tall, with short dark hair. He was wearing light jeans, white shirt, dark jacket and black shoes.

Inspector Darren Carver said: "Violent assaults in Witney are rare and this particular assault was totally unprovoked and involved a large degree of violence so I urge any witnesses to contact the police.

"The victim bled during the attack which left the offender with blood on his trousers. The attackers may well have been bragging about the assault later on to other people and someone may have seen the man with blood stained trousers.

"If you recognise the men in this CCTV footage then please come forward."

Anyone with information should contact Insp Carver on 0845 8 505 505, or anonymously by calling Crimestoppers on 0800 555 111.
Posted : 21/11/2006 18:15:26
Other recent Witney news items posted on the Witney website
More than 10,000 rural homes and businesses in West Oxfordshire now have access to ultrafast full-fibre internet, providing them with some of the fastest broadband speeds in the world. This milesto...
An NHS Covid-19 testing centre is to be built in Witney to improve support for residents. The building will be situated in the Woodford Way car park and is expected to remain for at least three mon...
Residents are being advised to be extra vigilant, particularly over half-term, as cases of coronavirus continue to spread across the county. Evidence shows that, in the past two weeks, the virus ha...
Better, the largest operator of municipal leisure facilities in the UK releases gym usage data since reopening: West Oxfordshire has seen a total of 20537 visits to their local gyms 26-34-year old...