Advertisements
Popular Pages
Pages Updated
Assault in Witney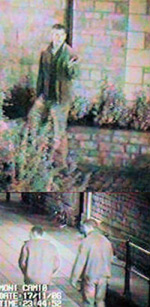 Police are appealing for information following an assault on a 25-year-old man in Witney on Friday night (17/11) and have released CCTV stills of two men they would like to speak to in connection with the incident.

The assault took place at Langdale Gate at 11.45pm. The victim was with his friend and they were approached by two men who attacked them. While his friend ran off to find help, the two men assaulted the 25-year-old man, leaving him with facial and head injuries.

He was treated by ambulance staff at the scene.

The main attacker is white, around 25-years-old, stocky build, around 6ft 2ins tall with short dark hair. He was wearing light jeans, dark shirt, denim jacket and brown shoes.

The second man is white, also around 25-years-old, medium build, about 5ft ins tall, with short dark hair. He was wearing light jeans, white shirt, dark jacket and black shoes.

Inspector Darren Carver said: "Violent assaults in Witney are rare and this particular assault was totally unprovoked and involved a large degree of violence so I urge any witnesses to contact the police.

"The victim bled during the attack which left the offender with blood on his trousers. The attackers may well have been bragging about the assault later on to other people and someone may have seen the man with blood stained trousers.

"If you recognise the men in this CCTV footage then please come forward."

Anyone with information should contact Insp Carver on 0845 8 505 505, or anonymously by calling Crimestoppers on 0800 555 111.
Posted : 21/11/2006 18:15:26
Other recent Witney news items
Residents are being reminded to check what they are placing in their recycling bins as contamination is increasing. The Council has noticed an increasing number of items such as nappies, food and p...[more]
Plans to modify Witney town centre following the reopening of non-essential shops are set to be put in place by the end of the week. The scheme, which involves the imposition of a 20mph speed limit...[more]
The Dix Pit household waste recycling centre at Stanton Harcourt will reopen on Monday 18 May but residents are being urged to hold their visit unless it is absolutely essential. Long tailbacks are...[more]
To view the full Witney Blog, click here