Advertisements
Popular Pages
Pages Updated
Why are so many Witney shops closing?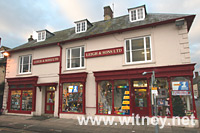 Have you all seen the "Closing Down Sale" signs in the window of Leigh and Sons?

Did you know that "Picture This" in Corn Street recently closed?

And The Hair Studio in Corn Street also appear to be closing down this week.

Is this just a coincidence or is there an underlying reason for these shop closures?
Why are so many shops in Witney closing?
Posted : 11/04/2006 19:57:08
Other recent Witney news items
Residents are being reminded to check what they are placing in their recycling bins as contamination is increasing. The Council has noticed an increasing number of items such as nappies, food and p...[more]
Plans to modify Witney town centre following the reopening of non-essential shops are set to be put in place by the end of the week. The scheme, which involves the imposition of a 20mph speed limit...[more]
The Dix Pit household waste recycling centre at Stanton Harcourt will reopen on Monday 18 May but residents are being urged to hold their visit unless it is absolutely essential. Long tailbacks are...[more]
To view the full Witney Blog, click here