Advertisements
Popular Pages
Pages Updated
West Oxfordshire to switch-on to electric powered vehicles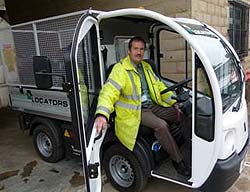 West Oxfordshire District Council is gearing up to go greener after trialling electric vans in its operational fleet.

Council workers in Environmental Services have been using two Goupil G3 electric vehicles that are not only non-polluting but also exempt from road tax, MOT testing and requiring minimal maintenance.

The electric vans would replace the petrol equivalent reducing carbon footprint by 1.5 tonnes a year.

Cllr David Harvey, Cabinet Member for Environment, said: "The Council is committed towards being more environmentally responsible and we want to take the lead in making West Oxfordshire one of the greenest district's in the country.

"These vehicles not only benefit the environment but are also cost effective."

Bob Lightfoot, West Oxfordshire' District Council's Environmental Operations Manager (pictured) has been testing the vehicle.

He said: "My team have been very impressed with these vehicles as they're very straightforward to use and with no engine noise have little impact on the community."

The vehicle requires only a small overnight electric charge.
Posted : 09/05/2012 17:14:46
Other recent Witney news items
Private landlords in West Oxfordshire are being invited to have their say as part of a new forum being set up by the District Council. The aim of the event is for the council to provide support an...[more]
West Oxfordshire District Council is encouraging residents to recycle their real Christmas trees. Householders already signed up for garden waste collections can simply put them out on their next...[more]
With the Christmas party season in full swing, residents are being warned to stay safe and check their taxi is safe and legal. Customers are being urged to look out for the Council's licence plate...[more]
To view the full Witney Blog, click here