Advertisements
Popular Pages
Pages Updated
New display for hygiene standards when eating out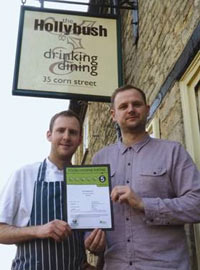 Over 500 premises in West Oxfordshire, have achieved the maximum food hygiene rating under a new scheme introduced by the Food Standards Agency.

The nationwide "Food Hygiene Rating Scheme", which launched in West Oxfordshire on 1 April, makes it quick and easy for people to check out food hygiene standards. All types of food businesses, including restaurants, cafes, butcher's shops, delis, takeaways and school kitchens have been rated.

The new scheme will build on the success of "Scores on the Doors" that West Oxfordshire District Council has been part of since 2009.

Cllr David Harvey, Cabinet Member for the Environment at the District Council, said "Whether people are going out for a restaurant meal or simply picking up a pizza, fish and chips or whatever else to eat at home, they want to be confident that their food has been stored, prepared and presented to the best possible standards.

"We are backing the new scheme as this serves as a good advertisement for high hygiene standards, gives food establishments an incentive to improve if necessary and provides residents with an informed choice about the safest places to eat. Plus having a consistent nationwide scheme means that the rating will have the same significance wherever people buy their food."

Ratings are based on inspections carried out by the District Council's environmental health officers. The hygiene standards found are rated from zero (which means "urgent improvement necessary") to a top rating of five ("very good").

Head Chef, Mike Burkert and Manager, Luke Champion of The Hollybush in Witney (pictured) are delighted to have been awarded a five rating. Mike said "A lot of work goes into keeping a busy kitchen hygienic 12 hours a day. The fact that we achieved a maximum score in our small kitchen is great news."

Luke went on to say "We took over the premises 6 years ago and have worked hard to improve the kitchen area. Our hygiene rating has improved from a 4 star to a 5 and we're chuffed that the new rating reflects all our work."

Food businesses will be given a ratings certificate to display in their premises for customers to see, and a sticker to put on their front door.

Alternatively log onto www.westoxon.gov.uk/FHRS or the national www.food.gov.uk/ratings website to find out the hygiene rating of food outlets in West Oxfordshire.

Catriona Stewart, Head of the Food Hygiene Ratings Team at the Food Standards Agency, said, "We recognise the real progress that has been made in improving hygiene standards in food outlets through "local" food hygiene rating schemes. But having a single nationwide scheme will mean a level playing field for businesses across the country, and consumers will be able to recognise and use the ratings in their own area, as well as further from home. So it's great news that West Oxfordshire District Council has switch to the new national scheme".

Around one million people suffer from food poisoning every year and the scheme aims to drive up food hygiene standards as well as helping people make an informed choice about where they eat or shop for food.
Posted : 02/04/2012 17:37:05
Other recent Witney news items
Private landlords in West Oxfordshire are being invited to have their say as part of a new forum being set up by the District Council. The aim of the event is for the council to provide support an...[more]
West Oxfordshire District Council is encouraging residents to recycle their real Christmas trees. Householders already signed up for garden waste collections can simply put them out on their next...[more]
With the Christmas party season in full swing, residents are being warned to stay safe and check their taxi is safe and legal. Customers are being urged to look out for the Council's licence plate...[more]
To view the full Witney Blog, click here