Advertisements
Popular Pages
Pages Updated
Top level support for local tourism industry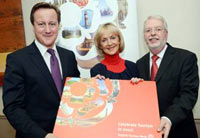 Tourism in the Cotswolds could play a greater part in boosting the country's economy. That was the message given by the Prime Minister at a networking event held recently in Witney.

The Rt Hon David Cameron MP for Witney stressed the importance of tourism to West Oxfordshire when he met with top level tourist industry leaders and local organisations and businesses as part of English Tourism Week (March 10-18).

David Cameron spoke about his passion for the tourism industry and, as the country's third largest export, its importance to driving the economy. He acknowledged the work people were doing promoting the industry, but felt there was potential to do much more. He said, "London, is obviously a massive tourism hotspot, but I think we have enormous untapped reservoirs in terms of the potential we have in our country, particularly right here in the Cotswolds where we welcome a lot of tourists, but could welcome a huge amount more."

David Cameron commented after the event, "I was delighted to attend the English Tourism Week event held in my West Oxfordshire constituency."

The networking event, held at the Oxford Witney Four Pillars Hotel on Friday 16 March, gave the industry an opportunity to examine the value of tourism to the nation as well as demonstrating its role in promoting the Oxfordshire Cotswolds to tourists and visitors.

Among those attending the event were Lady Penelope Viscountess Cobham, Chairman of Visit England and David Curtis-Brignell, Chairman of English Tourism Week.

Cllr Richard Langridge, Cabinet Member for Communities, said: "It was a pleasure to welcome the Prime Minister, Lady Cobham and David Curtis-Brignell to the district as part of English Tourism Week. All of the businesses and organisations represented here have played a big part in ensuring that the Oxfordshire Cotswolds remains a top holiday destination in England. By bringing them together and sharing ideas it can only boost the industry further."

Photograph of Rt Hon David Cameron MP with Lady Penelope Cobham and David Curtis-Brignell.

The event also saw the Prime Minister present Charles Holmes, CEO of the Four Pillars Hotel Group, based in Witney, with their Silver Green Tourism Business Award accreditation across the whole group of hotels.

West Oxfordshire's visitor trade has bucked the national trend for growth with latest figures showing that it generates over £255m to the economy and has consistently grown in the district over the past decade.

English Tourism Week was also celebrated in West Oxfordshire with a series of free guided town walks across the district to urge residents to visit some of the local hotspots on their doorstep, which saw nearly 100 people take part.

The District Council works closely with local businesses to promote the area as a tourism destination.

This includes producing visitor guides, promotional material and marketing the area as the 'Oxfordshire Cotswolds' through the www.oxfordshirecotswolds.org website.
Posted : 21/03/2012 17:27:58
Other recent Witney news items
Private landlords in West Oxfordshire are being invited to have their say as part of a new forum being set up by the District Council. The aim of the event is for the council to provide support an...[more]
West Oxfordshire District Council is encouraging residents to recycle their real Christmas trees. Householders already signed up for garden waste collections can simply put them out on their next...[more]
With the Christmas party season in full swing, residents are being warned to stay safe and check their taxi is safe and legal. Customers are being urged to look out for the Council's licence plate...[more]
To view the full Witney Blog, click here