Advertisements
Popular Pages
Pages Updated
The Blue Boar in Witney, welcomes Prime Minister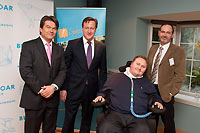 Oakman's latest Inn, The Blue Boar in Witney, welcomes Prime Minister and Witney MP, David Cameron, Matt Hampson and other dignitaries, to the SpecialEffect Tea Party to kick off 2012 Walk4Matt

Friday 16 March, The Blue Boar, Witney: David Cameron joined Oxfordshire walkers and local dignitaries at a special tea party to celebrate the launch of a 110-mile walk which will benefit SpecialEffect, an award-winning local charity, that helps people with disabilities to use leading-edge technology for therapy, rehabilitation and fun.

The charity is a leading beneficiary of Walk4Matt, a week-long walk through the UK inspired by Matt Hampson, ex-England under-21 rugby player who suffered a serious spinal injury and now raises money for disabled people throughout the country. The walk takes place from 19 to 26 May and in the last few years has featured appearances from rugby legends including Martin Johnson, Jason Leonard and Rory Underwood.

David Cameron praised the fundraising efforts of the walkers at his first official visit to The Blue Boar since it re-opened, who are on course to raise £15,000 for their efforts. He said: "SpecialEffect is transforming people's lives through technology - and it really is transformation. For some people with disabilities, magic is often hard to come by, but Mick and his team are providing magic moments all the time."

Their fundraising activities have included online auctions, car washes, raffles, quiz nights and sporting contests. They will be walking much of the length of the Grand Union Canal, supported by two narrow boats that will provide a base for food and rest.

SpecialEffect's founder and Director Mick Donegan said: "We're honoured that the Prime Minister has found the time to launch what is a very important fundraising initiative for us. We're overwhelmed with demand for our services to put people with disabilities on a level playing field with everyone else and improve their quality of life. The money raised from Walk4Matt will allow us to support even more people who simply need a way to play computer games or enjoy other computer-based leisure activities with their brothers and sisters - enjoying themselves like everyone else. It's a pleasure and a privilege to be launching this event on such a special occasion for the Bosworth Suite and our thanks go to Peter Borg-Neal, CEO of Oakman Inns and his team for their generosity."

The Prime Minister said: "It's great to return to The Blue Boar which has been transformed by Peter Borg-Neal. In fact, I drank my first pint in Witney here! I would like to thank Peter for not only hosting the SpecialEffect Tea Party but also completely restoring this historic coaching inn which has been here for hundreds of years."

Oakman Inns CEO, Peter Borg-Neal added: "We are thrilled with the way in which Witney has supported The Blue Boar since opening in December following its full restoration and we're delighted to have the opportunity to give something back to the community. It struck me when The Prime Minister came to support our combined efforts, that perhaps all these little steps we take together are what the Prime Minister meant by a Big Society. SpecialEffect does exactly what it says on the label- it is special and it does have an effect on those it helps. With David Cameron's backing and all our small bits of input, we hopefully make their work a little easier. If their work is easier then more people who really need help benefit."

Among the guests who enjoyed a traditional English tea with specially decorated cup cakes made by local company, Caked In It, included Kelvin Thomas, Oxford United's Chairman, The Mayor of Witney and members of Witney RFC and Witney Round Table.
Posted : 20/03/2012 10:51:30
Other recent Witney news items
Private landlords in West Oxfordshire are being invited to have their say as part of a new forum being set up by the District Council. The aim of the event is for the council to provide support an...[more]
West Oxfordshire District Council is encouraging residents to recycle their real Christmas trees. Householders already signed up for garden waste collections can simply put them out on their next...[more]
With the Christmas party season in full swing, residents are being warned to stay safe and check their taxi is safe and legal. Customers are being urged to look out for the Council's licence plate...[more]
To view the full Witney Blog, click here