Jobs in Witney
Graphic Designer, Witney
See the Witney Jobs website for details.
Employers, post your Witney job vacancy for just £99 + VAT
Witney Website Sponsors
Latest Witney News and Blog Items - Updated January 2016
Witney Events - What's on in Witney and the surrounding area
Advertisements
Popular Pages
Witney Links
Pages Updated
Our Friends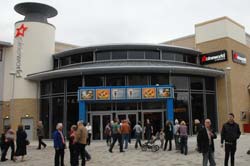 Witney is a thriving market town with over 25,000 residents in over 10,000 households (according to recent figures from Oxfordshire County Council) making it the largest town in West Oxfordshire. The current MP for Witney is Conservative Party Leader David Cameron who became Prime Minister when voters went to the polls on Thursday May 6th 2010 after the Liberal Democrat Party joined the Conservative Party in forming a Coalition Government. In 2015 he was once again installed as Prime Minister when the Conservative won a majority at the General Election.
The town of Witney, world famous for its blankets, dates back to AD969, though there is some evidence of Iron Age and Roman settlements in the area.
Witney Choir to sing Handel's Messiah at The Royal Albert Hall, London
For the past 2 years, West Oxfordshire Academy of Performing Arts' has taken a group of adult singers to perform Handel's 'Messiah' at TRAH London as part of 'The Really Big Chorus'. Last year, we took 55 singers and with accompanying family members fill...
[full story]
Posted
04/02/2016 14:00:28
This Witney website brings you information on Witney including Witney news, accommodation, attractions and events.
Witney offers all of the facilities you would expect to find in a town of its size. A varied shopping experience, Sainsbury's out of town supermarket, pubs and restaurants, leisure facilities like Pirate Fitness, the Witney Lakes resort and the Windrush Leisure Centre, hotels like the Witney Four Pillars Hotel, a college (Abingdon and Witney College) even a Witney car auction. The town is expanding through ongoing property development, notably the Madley Park development and the Marriots Close (Marriotts Walk) development gives shoppers plenty of reasons to stay longer in Witney. And there are, of course, a plentiful supply of Witney estate agents if you have a house for sale in Witney or you want to buy a Witney property.
A selection of local businesses, such as Witney taxis, can be found in the Witney Business Directory.

Where To Stay In Witney
Places To Stay
:
Hawthorn House
Hill Grove Farm
The Fleece Hotel
Are you looking for a hotel in Witney (such as the Witney Four Pillars Hotel, The Fleece Hotel or The Blue Boar (was the Marlborough Hotel), Witney Guest Houses, Bed and Breakfast in Witney or self catering accommodation in Witney?
Visit the Witney accommodation page.
Witney Shops
Witney has a unique blend of shops from large chain stores including Currys.digital (formerly Dixons), Argos, WH Smith, Jones Bootmaker and Waterstones to the many smaller shops that have a presence in the town such Rapture and .The Old Pill Factory.
The Marriots Close development has brought more big names to the town including names such as Debenhams and Marks & Spencer.
The range of shopping in Witney has been boosted in recent times as Argos, Robert Dyas and Fat Face have opened shops in Witney.